Everyone has a favourite. Our goal with this chart is to outline the key distinctions among the 14 most popular ships for UK passengers in an easily digestible way. So how do we define "popular"? – Put simply it's how many visits each ship gets on the Cruise Critic website since the start of the year.
If you want more information about a particular ship or to see photos, just click on the vessel name for a comprehensive expert review and hundreds of reader-submitted critiques.
---
1. Marella Explorer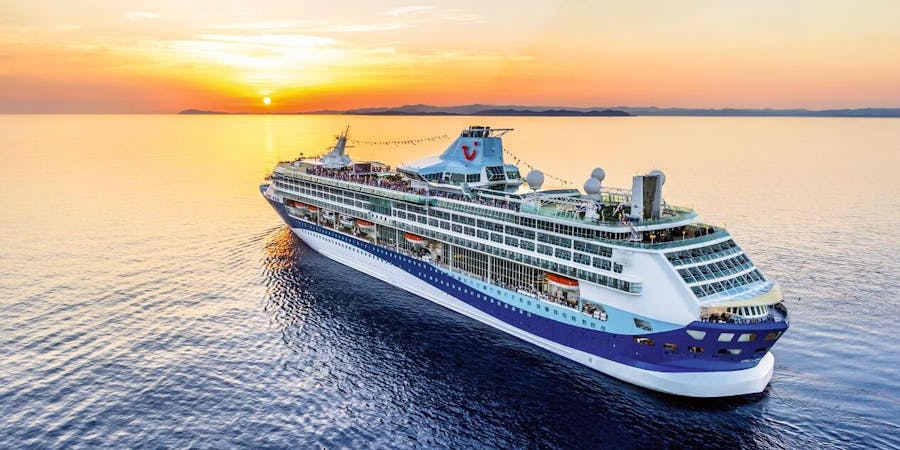 Marella Explorer started out at Celebrity Galaxy in 1996 and later became TUI Cruises' Mein Schiff 1 before undergoing the transformation that turned it into Marella Explorer. Despite its age (23 years old), this ship is the clear winner in our Top 14 -- and the first of six Marella ships which dominate this chart.
It has 10 dining venues, including favourites Kora La and Surf & Turf, as well as new sushi, pizza and tapas restaurants, and a bar-nightclub-casino called Indigo as well as 13 brand-new, hi-tech production shows. One of Marella's key selling points is that it is largely all-inclusive with drinks and tips included in the fare. Sister ship Marella Explorer 2 debuted in April 2019.
Deployment:
Marella Explorer alternates between Europe sailings in the summer and the Caribbean during the winter season.
Sleep
14 family balcony cabins

Standard balcony cabins with more external space.

The largest standard inside cabins in Marella's fleet.
Eat
10 restaurants, including favourites Kora La, Surf & Turf, as well as ...

New eateries Umi Sushi and The Mediterranean (pizza and tapas).

Scoops ice cream parlour, offering quirky bicycle-style seating.
Fun
13 new production shows, featuring steampunk and cinema themes, as well as 4D smells.

Onboard partnership with luxury spa brand Champneys.

New Indigo lounge combining a bar, nightclub and casino.

The Verandah adults-only sun deck.
---
2. Marella Explorer 2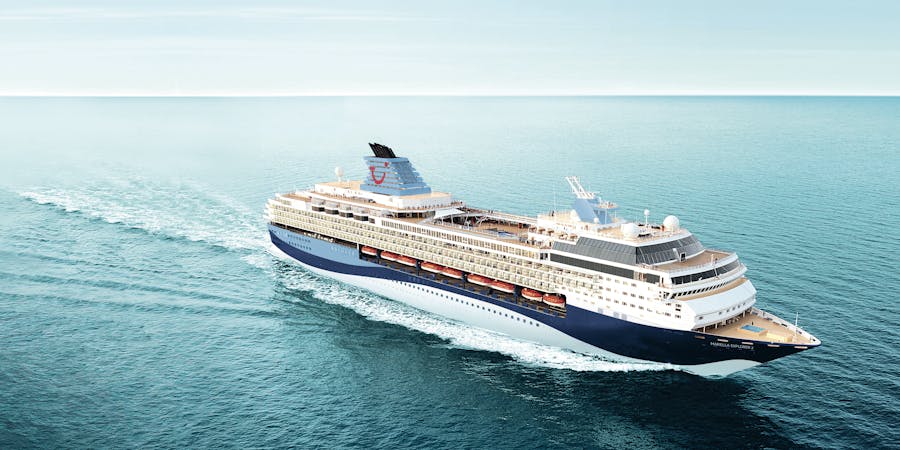 A sister to our top ship, ME2's key difference is that it is adults only -- Marella's first. It started life as Celebrity Century in 1995, but went through a similar substantial refurbishment as sister Marella Explorer.
There are a number of differences between ME2 and its sister, namely: four brand-new venues for the line: A pizzeria-style dining option called Nonna's; a clubhouse bar called The 19th Hole; an elegant Prosecco and Champagne bar called Flutes, and The Beach Cove with a beach-barbecue theme.
It also has those popular features which debuted on Marella Explorer, including a Champneys Spa, a number of brand-new shows and speciality dining and drinking venues, including Asian-fusion restaurant Kora-La and Surf and Turf Steakhouse.
Deployment:
Marella Explorer 2 is based in Naples with seven-night itineraries with stops in Venice, Rome and Dubrovnik.
Sleep
14 family balcony cabins.

Standard balcony cabins with more external space.

The largest standard inside cabins in Marella's fleet.

The Royal Suite which measures 102 square metres, features separate bedroom, dressing room, dining area and whirlpool bath.
Eat
Two new-to-the line restaurants -- Nonna's, a pizzeria-style restaurant; and The Beach Cove, for a BBQ theme.

Favourites Kora La, Surf & Turf and Snack Shack, Umi and The Mediterranean (pizza and tapas).

Scoops ice cream parlour.
Fun
13 new production shows.

Onboard partnership with luxury spa brand Champneys.

A new Champagne bar called flutes.

New clubhouse bar called the 19th Hole.
3. Britannia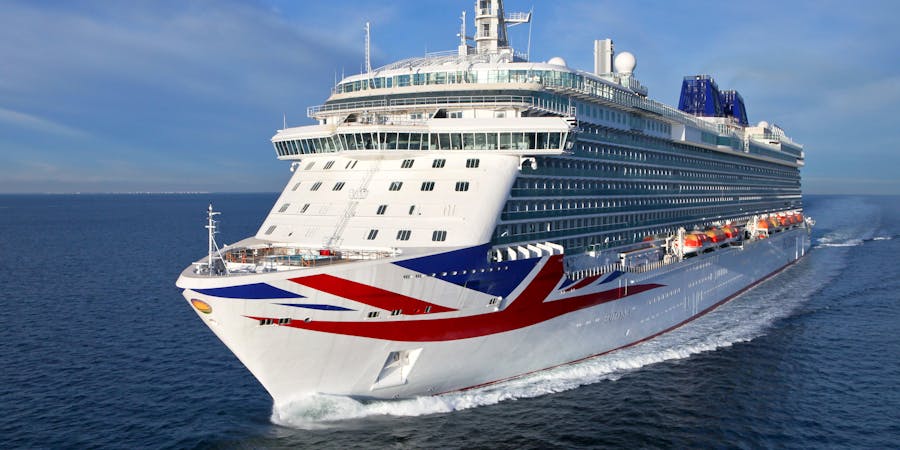 P&O Cruises' newest and largest ship specifically built for the U.K. debuted in March 2015 -- with HM The Queen presiding over the naming ceremony.
The 3,647-passenger vessel combines all the most popular aspects of the rest of the fleet -- Sindhu restaurant, Olly Smith's The Glass House and the Strictly Come Dancing tie-up -- and adds some brand new features such as the Cookery Club and a TV Studio.
The ship also has a stunning stage show devised by BGT magician Stephen Mulhern, called "Amazing", which debuted this year (2019).
Deployment:
Based in Barbados during winter for Caribbean cruises, Southampton in summer for the Mediterranean.
Sleep
First purpose-built single cabins with balconies.

All outside cabins have balconies.

All suites are butler-serviced.
Eat
High-end molecular gastronomy in The Epicurean.

Dine with the celebrity chefs in the Cookery Club.

Sindhu for high-end Indian cuisine.
Fun
Limelight Club: A chance to see celebrity performers up close and personal.

Crystal Room showcases ballroom dancing and Strictly dance offs.

The biggest Crow's Nest bar in the fleet -- with 20 different type of British-distilled gins to choose from.
---
4. Marella Discovery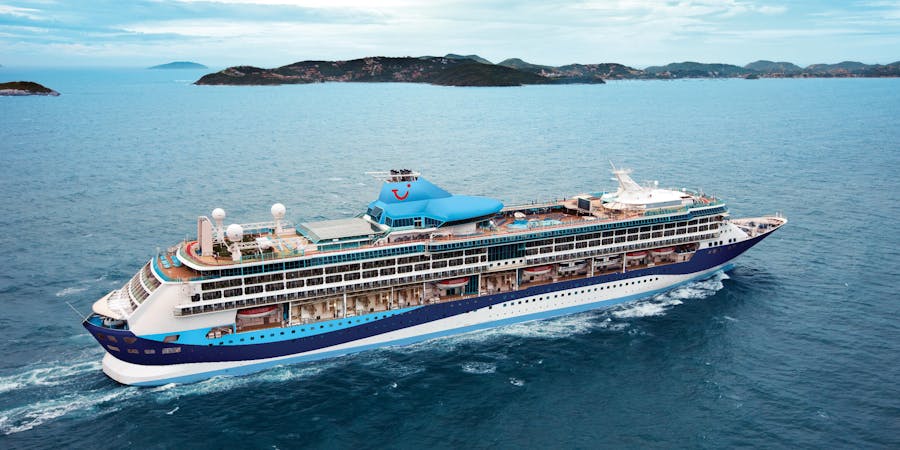 The 1,830-passenger Marella Discovery made its 
debut in June 2016
 and marked the start of Marella (then Thomson Cruises) move towards bigger and newer ships. Though not new -- the ship is more than 20 years old and once sailed as Royal Caribbean's Splendour of the Seas -- it did have a complete makeover and boasts a number of popular features including Kora La Asian restaurant, a puzzle room, a virtual band, revamped kids' facilities and redesigned public spaces.
Deployment:
 Palma de Mallorca until the end of the cruise season in October, before spending the winter in Barbados.
Sleep
The largest number of balcony cabins of any Marella ship.

All cabins were completely refurbished.

Suites have access to the Executive Lounge.
Eat
The upper level of the main dining room has been turned into a (free) Italian restaurant, Gallery 47°.

Two popular for-fee dining options: Asian restaurant Kora La and Surf & Turf Steakhouse.

Plenty of free options including Snack Shack and The Glass House for tapas.
Fun
Debut of the first Puzzle Room on a Marella ship.

Climbing wall and mini-golf.

West End-quality shows and entertainment.
---
5. Marella Discovery 2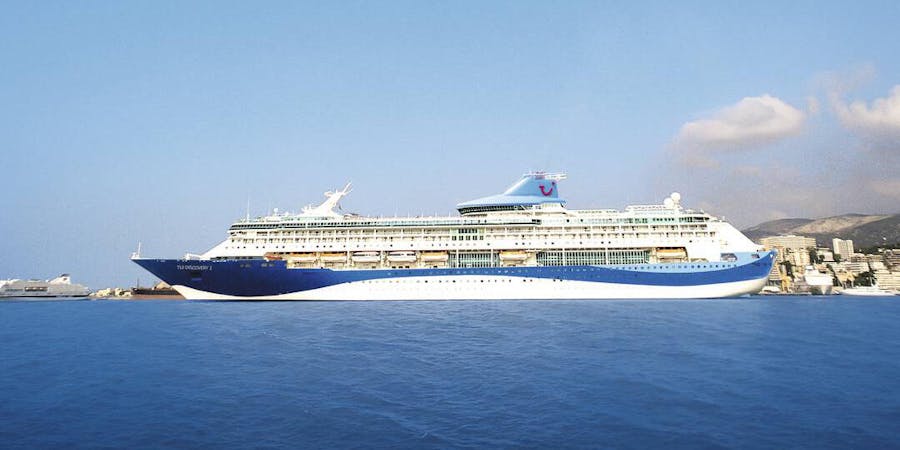 Marella Discovery 2 entered service on May 14, 2017, having sailed as Royal Caribbean's Legend of the Seas. Sister ship to Marella Discovery (the former Splendour of the Seas) Marella Discovery 2 received a bow-to-stern makeover with stunning results.
Many of the features from Marella Discovery have been carried across to Marella Discovery 2, including Bar Eleven, Snack Shack, Movies at Moonlight, and the popular Sushi Bar within Kora La restaurant. Marella Cruises has pared back some of the ship's former loud decor to create a more harmonious feel that will appeal to its British market.
Deployment:
 Homeported in Malaga, with additional sailings from Corfu, offering a total of six different itineraries through October 2017.
Sleep
Cabins range from 39-sqft single inside cabins to the 154-sqft executive suite with balcony.

366 balcony cabins -- that's 40 per cent of all cabins with outside space

All cabins benefit from a cosmetic makeover, including fresh carpets, artwork and updated soft furnishings.
Eat
The Glass House serves deli-cuisine until evening, when the menu turns to Hot Stone and a tapas-style offering.

Two popular for-fee dining options: Asian restaurant Kora La and Surf & Turf Steakhouse.

Snack Shack is the ship's informal outdoor dining destination, serving festival-style fast food with a trendy British beach hut theme.
Fun
A rock climbing wall and mini-golf course.

The Broadway Show Lounge features 11 shows, four of which are brand-new for Marella Discovery 2.

Bar Eleven is located at the highest point of the ship, on Deck 11, and offers a chilled vibe during the day and a lively ambiance at night.
---
6. Azura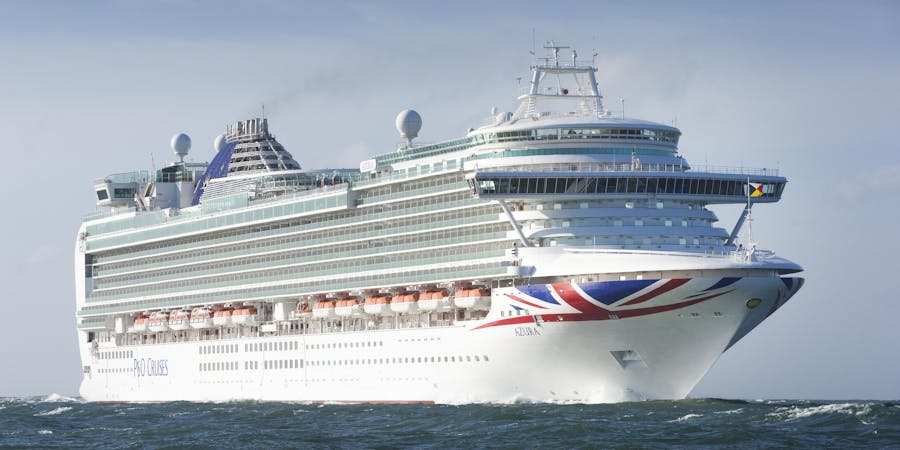 The 3,100-passenger Azura is Ventura's younger sister (by two years), and has the same vibe and feel as her older sibling: family friendly, superb dining options, an adults-only area, plus one or two extra features, including SeaScreen, an outdoor cinema.
The ship offers something for everyone: from Brodie's sports bar playing Premier League football around the clock (as well as evening bingo and pub quizzes) to ballroom dancing lessons in the impressive atrium and a posh curry in Sindhu.
Deployment:
Azura spends the winter in the Caribbean in Barbados; and the summer in Southampton cruising to Northern Europe and the Baltic.
Sleep
Superior Deluxe Balcony Cabins come with Champagne, fruit and chocolates on arrival.

The Suites have butler service, daily canapes, a coffee machine, newspapers and exclusive use of Seventeen for breakfast.

Families can be accommodated in all cabin grades except those for singles.
Eat
Dozen-plus dining options focus on casual eats.

Main dining room, Crimson, is one of most vibrant at sea.

Surprisingly good for-fee steakhouse.
Fun
Adults-only areas including The Retreat.

Great kids' facilities including appearances from Mr. Men and Little Miss Sunshine.

There are 12 bars, including Brodies, a cross between a sports bar and traditional pub but with a small casino attached.
---
7. MSC Bellissima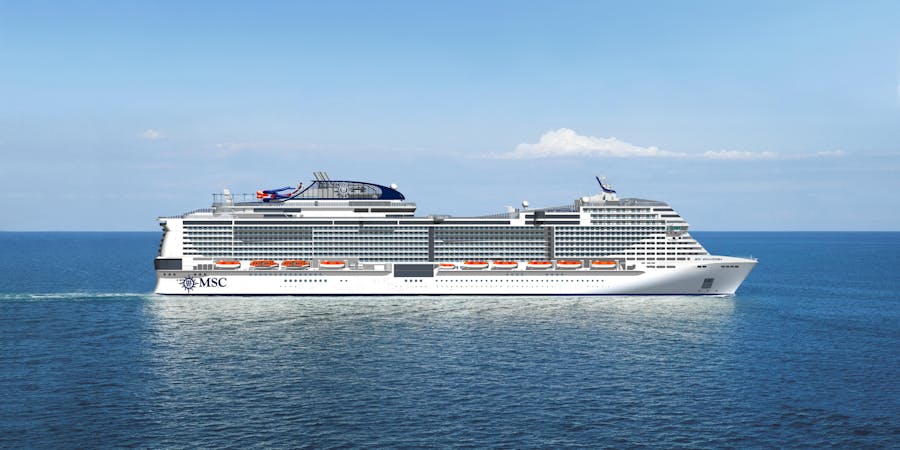 Coming straight out of nowhere to make its debut at number 8 in our list, MSC Bellissima is the line's joint-largest, feature-packed, fun-filled ship and a sister to MSC Meraviglia. It launched in March 2019, at a star-studded ceremony in Southampton.
It shares a large number of features with its sibling, including a huge promenade -- galleria Bellissima -- which has an ever-changing 80m-LED ceiling, popular restaurants The Butcher's Cut and Kaito Teppanyaki & Sushi, a huge kids' club, a vast suites-only Yacht Club, top-deck Aqua Park including a ropes course and three water slides and a 4D theatre and an amusement arcade.
There are a few new features including HOLA! Tapas by Spanish chef Ramon Freixa, L'Atelier Bistro, two new Cirque at Sea shows, new theatrical performances and Zoe -- a voice-activated AI assistant in every single cabin.
Deployment:
MSC Bellissima
spends the summer in the Western Mediterranean, with stops in Genoa, Naples, Sicily, Malta, Barcelona and Marseille, and winters in the Gulf.
Sleep
A wide variety of cabin types to choose from, including single studios right up to two-floor duplexes.

The Yacht Club is an all-suite complex that boasts a private lounge, dining room and sun deck.

Specially-designed family rooms with bunk beds and adjoining cabins can sleep up to 10.
Eat
Four main dining rooms.

Excellent speciality restaurants -- sushi, Teppanyaki, steaks, French and tapas.

Master chocolatier JP Maury offers a wide choice of delicious beverages and chocolate creations.
Fun
Indoor sports arena featuring basketball, short tennis and football.

Games Arcade featuring a 4D cinema, VR and simulated F1 racing.

Three pools, a ropes course, aqua park and three waterslides.
---
8. Ventura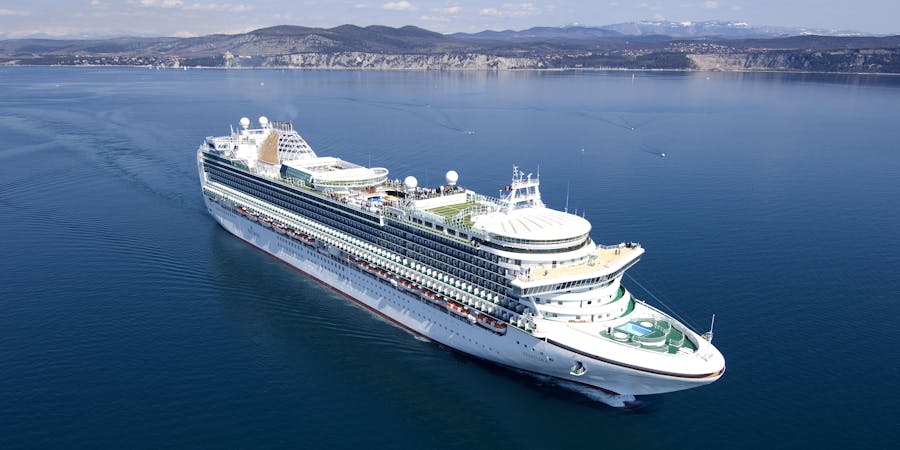 The older sister of P&O Cruises' Azura by two years, the 3,100-passenger ship has a similar family-friendly feel with great kids' facilities and children's programme.
There is also a strong emphasis on food, with dining options including Sindhu and The Epicurean, as well as popular spots including The Glass House for wines and tapas.
Ventura also has an adults-only area called The Retreat.
Deployment:
Ventura spends the winter in the Caribbean in Barbados; and the summer in Southampton cruising to Spain, the Canaries and the Eastern Mediterranean.
Sleep
Ventura has 1,555 cabins, of which 434 are inside, 1,103 are outside and 881 have a balcony.

The Suites have butler service, daily canapes, a coffee machine and newspapers.

Two AE grade suites at the forward end of Deck 9 have a second bedroom -- ideal for families.
Eat
High-end molecular gastronomy in The Epicurean.

Marco Pierre White prepares the Gala Dinners.

Sindhu replaced 17.
Fun
Adults-only area, The Retreat.

Great kids' facilities including appearances from Mr. Men and Little Miss Sunshine.

There are 12 bars, including The Glass House, wine bar with tapas from wine guru Olly Smith.
---
9. Celebrity Edge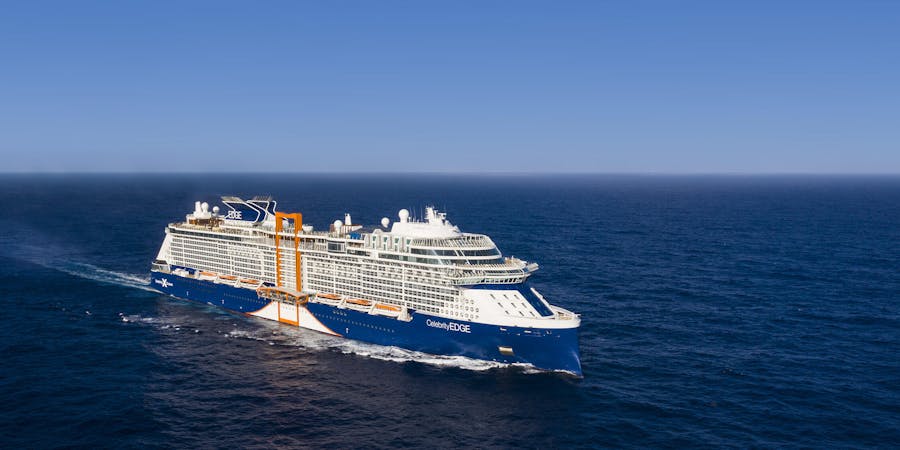 Celebrity Edge is the latest ship from Celebrity Cruises, making its debut in December 2018 -- and winning Best New Cruise Ship in the Editors' Picks Awards both in the UK and the US.
Celebrity Edge debuts a number of firsts -- a game changing moveable platform on one side which doubles as a bar and a tender station; cutting-edge facial recognition technology; "infinite balconies", with windows that slide up and down at the touch of a button and immersive theatre shows.
However, some of these innovations have met with mixed reviews with the jury still out on the balconies and the entertainment. Yet despite this, the shop makes a respectable showing at the number 11 spot in our top 14.
Deployment:
Celebrity Edge
spends the summer in the Western Mediterranean and winters in the Caribbean, sailing out of Fort Lauderdale.
Sleep
Cabins are some of the largest you'll encounter on a mainstream cruise ship, an impressive 244 square feet of space.

Kelly Hoppen-designed cabins including duplex "Villas" and vast range of suites.

The "infinite Verandas" increase the floor space of cabins, but some people still prefer a "traditional" balcony.
Eat
A total of 15 different dining venues, including four dining rooms, each specialising in a different cuisine.

Excellent speciality restaurants -- Le Petit Chef, Fine Cut Steakhouse and Raw on 5.

Enjoy dinner on the Edge on the Magic Carpet -- the moveable platform at the side of the ship.
Fun
Revelation at Eden is different from any show you've seen at sea -- interactive and edgy, you're likely to love or hate it.

Two-deck The Club is where you'll catch live performances and late-night discos.

Large pool area with Martini-shaped hot tubs, loungers and a DJ set in the evenings.
---
10. Explorer of the Seas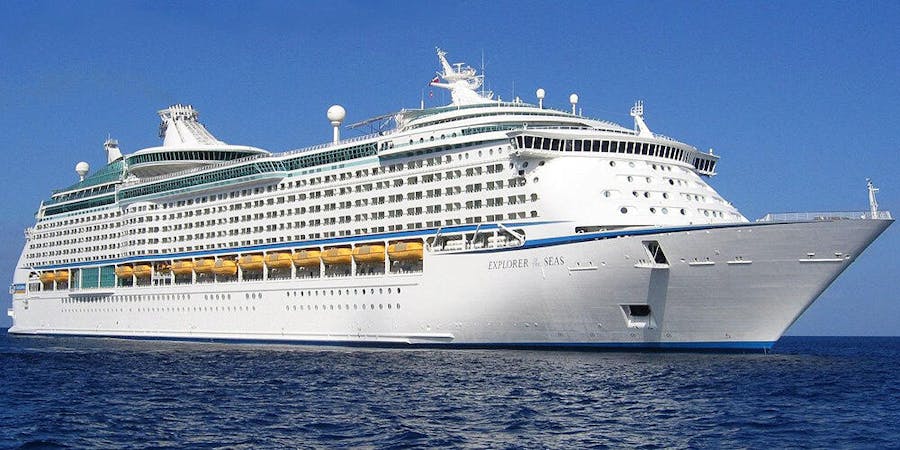 Explorer joined Indy in the UK this year, sailing out of Southampton. The second of five in the revolutionary Voyager-class series that started with 
Voyager of the Seas
 in 1999, Explorer of the Seas follows the floating resort concept, with a wealth of facilities, activities and entertainment that will appeal to every age group.
The class debuted many features that are now mainstays on all Royal ships -- ice skating rink, a concert venue, a TV studio, a large spa/solarium complex, a shopping/dining/entertainment boulevard, and outdoor movie screen.
You'll also find a rock-climbing wall, full-court basketball, nine-hole miniature golf and simulated surfing on the FlowRider.
Deployment:
Ex-UK sailings from Southampton, with Baltic and Med itineraries from August to October 2019 (Note: Explorer will not be UK-based in 2020); Florida and the Caribbean over the winter.
Sleep
1,642 cabins, 1,001 which have an ocean view.

81 insides retrofitted with "virtual balconies" -- floor-to-ceiling screens which provide live HD views from the ship.

Insides with views of the bustling Royal Promenade.
Eat
Traditional formal, three-deck main dining room.

Chops Grille, Royal's signature steakhouse and Giovanni's Table, family feast style trattoria.

The ever-popular Johnny Rockets for burgers, fries and shakes in a 50s-style diner.
Fun
FlowRider, ice-skating, rock climbing, basketball, mini-golf.

The four-deck-high, 1,350-seat theatre has an opera-house ambience and excellent sightlines.

13 bars including English-style pub, a cocktail bar and a sports bar.
---
11. Independence of the Seas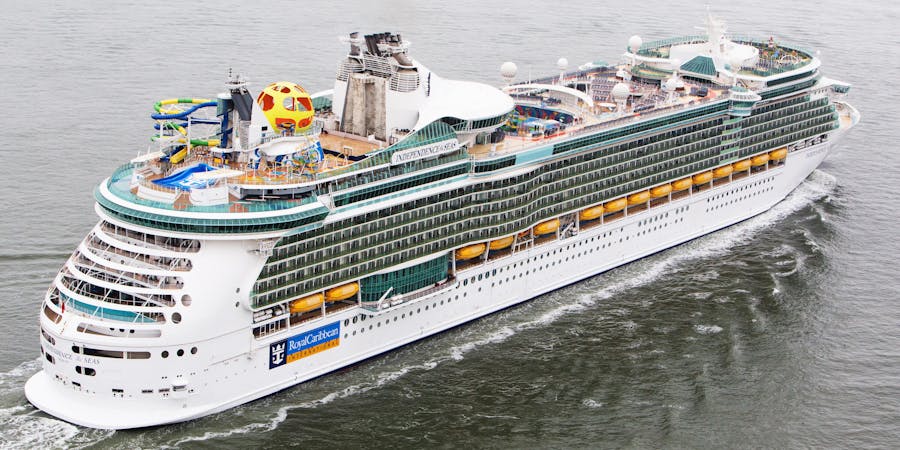 It may be in its 11th year, but the ever-popular Independence of the Seas (or "Indy" as the ship is fondly known), returned to our charts after a multi-million makeover which saw a host of new features including SkyPad, a virtual reality trampoline experience; a laser tag arena, a puzzle break room, The Observatorium; two water slides and a kids' aqua park, as well as new dining and drinking venues -- and 107 new cabins.
The ship will be taking a short break from these shores next year (2020) to be replaced by the even more zingier Anthem of the Seas.
Deployment:
 The ship is based in Southampton from May to October and in Florida over the winter months. Next year (2020), Indy will be based in Florida all year, calling at Royal Caribbean's newly-refurbished private island, PerfectDay at CocoCay.
Sleep
Ocean View Panoramic Suites were added in the 2018 refurb, accommodating up to six people.

A total of 07 new cabins were added in the 2018 refit.

Indy features a Presidential Family Suite which comes in at 1,215 square feet, with an 810-square-foot balcony and sleeps up to 14.
Eat
Izumi Sushi & Hibachi is a fantastic new addition to the ship.

Playmakers Sports Bar & Arcade offers bar food and all the major sporting fixtures.

Fish & Ships is a new casual eaterie next to Splashaway Bay, a new kids waterpark.
Fun
Laser Tag, a Puzzle Break Room and Skypad -- the new VR trampoline -- are all new for 2018.

Studio B splits its time between as an ice skating rink and as the venue for Laser Tag

"Grease -- the Musical" is one of the best shows onboard a ship.
---
12. Celebrity Silhouette
The 2,850-passenger Silhouette is the fourth of Celebrity's sleek, sophisticated and extremely popular Solstice-class ships, which made its debut here in the UK last year replacing Celebrity Eclipse.
Combining big-ship amenities such as a huge spa and gym, big-production shows and a number of high-end restaurants, with small ship service and sophistication, Silhouette regularly gets 90 per cent + approval ratings from Cruise Critic members.
Silhouette debuts the popular Lawn Club Grill, a space previously occupied (on Eclipse) by a glass blowing show.
Deployment:
Southampton during the summer, offering seven- to 14-night Norwegian fjords, Baltic Sea, Mediterranean, Canaries & Azores and Iceland and Ireland sailings until October; and Fort Lauderdale during the winter for Caribbean cruises.
Sleep
121 connecting staterooms and four Family Ocean View Staterooms with verandahs.

AquaSpa cabins include spa-oriented cosmetics, gels and bath amenities; upgraded linens and access to an exclusive room service menu.

The 44 Sky Suites have a 79-square-foot verandah accessed through floor-to-ceiling sliding-glass doors.
Eat
The top deck Lawn Club Grill features DIY steaks and seafood.

Tuscan Grille has the best view of any restaurant afloat, being situated all the way aft.

The Porch is a casual top deck eaterie with an emphasis on seafood.
Fun
New Hideaway replaces Team Earth.

World Class Bar features craft cocktails and top mixologists.

For-fee "Alcoves" area for a VIP experience on the top deck lawn.