It's like an episode of Holidays from Hell -- a missed flight leading to a mad dash for a departing ship, trying to locate said ship when you've enjoyed one too many cava sangrias and forgot to make a note of the terminal location, and running up a phone or drinks bill the size of which would give your bank manager a coronary.
Cruising is no different to most holidays, and it pays to be organised when you're due to set sail -- it's not worth getting stressed over badly calculated timings, or have your fellow holidaymakers scowl at you when they know you're responsible for the ship's late departure.
Because we're good like that, we've done the groundwork to help you avoid some of the most embarrassing cruise blunders. With everything under control, all you need to do is relax and enjoy an unforgettable voyage.
1. The Buffet Blunder
Ever heard the expression, "eyes bigger than your belly"? If you identify with this, beware the lure of the buffet, especially if you don't want to end up holed up in your cabin with indigestion, or blowing the diet in one fell swoop. It's so easy to be seduced by the wonderful aromas, station after station offering the best in global cuisine and desserts begging for your attention. We have even been known to load up our plates with a stomach-ache inducing combo of Indian, Italian and French cuisine -- and that was just the starter. But you can have too much of a good thing, and it starts right there at the buffet. We know it's tough, but try and exercise a little restraint -- you're on for seven days so you don't need to eat everything at the first meal.
Top Tip: Think how you eat at home -- a sandwich and a salad will often suffice at lunch rather than a Sunday roast.
2. The Boarding Blunder
This is probably one of the most important blunders to avoid -- not making it onto the ship in good time for sailaway, or worse -- watching the ship disappear into the sunset after a white-knuckle taxi ride from the airport. You may think that a couple of hours is more than enough time, but what if your flight is delayed, or god forbid, cancelled? We've learnt by our mistakes and always book a pre-cruise stay the night before sailing, so we know that we'll make it on board in plenty of time. Don't even contemplate the worst case scenarios, get booking that hotel now.
Top Tip: It's always worth taking a carry on bag as your suitcases take a while to arrive to your cabin.
3. The Spa Blunder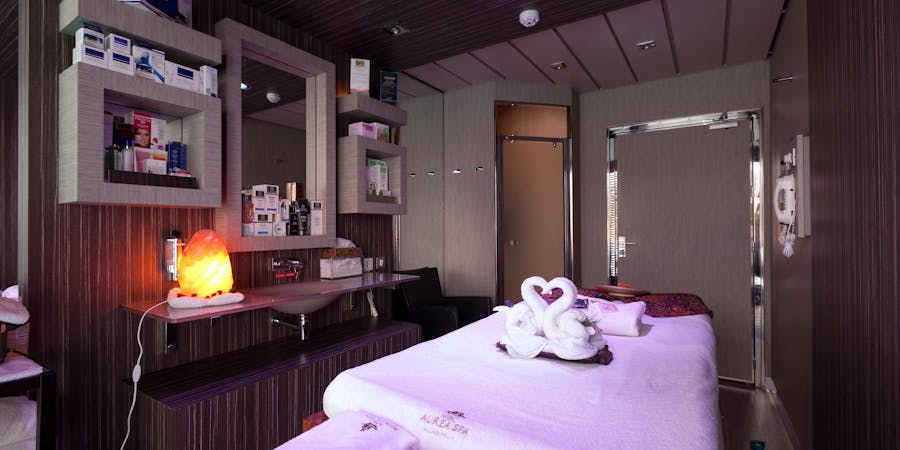 You may be asking yourself, what could possibly go wrong in these havens of tranquility? Quite a lot, actually. The first rule of spa is never turn up bang on time for your appointment -- you need to aim to be there around 10 minutes early to fill out the prerequisite disclaimer form, change into your robe and soak up the zen-like surroundings. If you're a little late, you'll miss valuable treatment time. When you're on the bed, don't natter non-stop to the therapist -- he or she wants you to relax and won't take offence if you decide to catch up on a few zzzs from the night before.
Top Tip: Do not get seduced into buying the overpriced spa products that your therapist will try and sell you after your massage.
4. The Budget Blunder
Don't let that onboard account go unnoticed, especially if you're on a budget. If your cruise is not all inclusive and you like a tipple, pay attention. To avoid being handed an unexpected bill at the end of the holiday, pay-as-you-go is a no-no. Plan ahead and make the most of any drinks packages on offer; if you're booking through a travel agent, mention it to them as they may be able to secure you a deal. It's also useful knowing your bill ahead of time. On the flip side, if you like a certain gin brand or have a penchant for champagne cocktails, it's worth considering upgrading to a premium package as the standard packages tend to cover drinks only up to a certain amount.
Top Tip: Always, always buy your package before you board -- it's always cheaper than buying onboard.
5. The Port Blunder
Last summer, my friend Karen and I cruised the Med, with one of our ports of call being the wonderful city of Barcelona. Having both visited before, we decided to do our own thing, especially as the ship was in port overnight. We shopped, caught the buzz of the Ramblas, sipped cava on the beachfront and enjoyed tapas in Placa Reial. After a lovely evening, we decided on a leisurely stroll to our ship instead of jumping in a taxi as the last port shuttle had already departed. One hour later and we still weren't back -- instead we were stumbling along roads without pavements, nearly fainting in the humidity. Just as panic started to set in, the ship came into view -- and we couldn't get back on board fast enough. Always find out where the cruise terminal is located, and how long it's likely to take you to get back from town.
Top Tip: Remember to change your watch to local time -- not changing the hour is one of the main reasons passengers are late back to the ship.
6. The Connectivity Blunder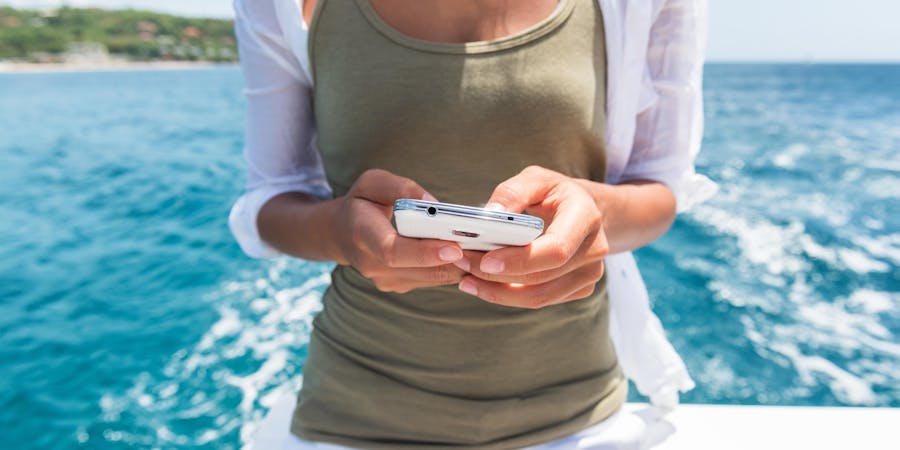 Being savvy with your devices will almost certainly help save you money. Before the cruise, find out what WiFi packages are available and budget for what you think you will need. On sea days and away from land, if your data roaming is on, the ship will connect to satellites which your phone will then connect to. This is when things can get pricey so switch off data roaming, switch your phone to airplane mode and use the ship's WiFi if you've bought a plan. Don't forget, if your data roaming plan includes certain parts of the world, it may be better to wait till you're in port to use your phone. If you stop at a bar or cafe when on land, you can also use their WiFi hotspot.
Top Tip: Switch to "Airplane" mode the moment the ship is out of range of land signals.
7. The Excursion Blunder
You want your time ashore to be enriching rather than infuriating, so choose excursions wisely: if you want to explore on foot, there's no point in complaining about it from the back of a bus. If you have kids in tow, make sure its suitable -- keeping a constant watch on little Johnny when half the world has descended on St Mark's Square in Venice is not ideal. "We'll meet back at the bus in 10 minutes," your guide says. You may think that's not enough time to get lost but there is inevitably going to be a straggler or two following a "brief" trip to the gift shop or toilets. Do you want to do the walk of shame through the coach with your fellow passengers scowling at you? Thought not…
Top Tip: Sometimes it's often to go it alone, especially in a port you know well (but don't forget the advice above about getting back to the ship on time!).