Step aside, feathered showgirls. Cruise ship stage shows now rival land-based theatre productions, thanks to partnerships with Broadway musicals and big-name entertainers. Outrageous costumes, high-tech effects and creative venues (including water-based and ice skating performances) are now commonplace on many mega-ships. With so many incredible offerings, we had trouble choosing our favourites, but if you're addicted to great theatre, you can't go wrong with these top 9 shows on cruise ships today.
1. "Mamma Mia!" on Royal Caribbean
Ship: Allure of the Seas
Why We Love It: ABBA songs, colorful costumes and a silly-yet-sweet plot combine to create a toe-tapping extravaganza -- part of Royal Caribbean's Broadway At Sea program. The Greek Island setting is perfect for a show at sea, and the musical is so well done that many cruisers go back to see "Mamma Mia!" a second time.
Related: Which Shows Are on Which Royal Caribbean Cruise Ships?
2. "Jersey Boys" on Norwegian Cruise Line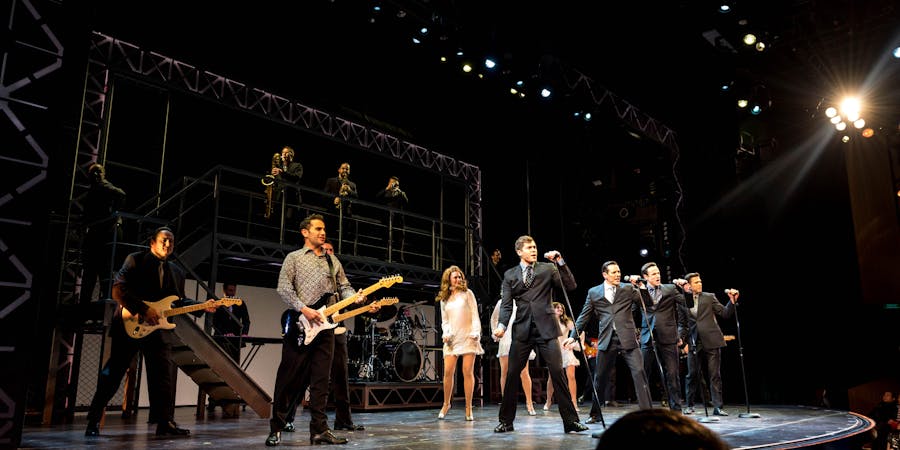 Ships: Norwegian Bliss
Why We Love It: Just as it did in the West End, "Jersey Boys" gets a standing ovation on Norwegian Bliss -- from both Cruise Critic editors and passengers. The at-sea rendition of the Tony Award-winning hit, which follows the rise and fall of the Four Seasons and its lead singer Frankie Valli, is outstanding. It's joyful, suspenseful and emotional (confession: we may have shed a tear at one point) -- while transporting you back to the '60s and '70s with hits like "Big Girls Don't Cry," "Sherry," "December 1963 (Oh, What a Night)," and "Working My Way Back to You."
Related: Which Shows Are on Which Norwegian Cruise Line Ship?
3. "Tangled, The Musical" on Disney Cruise Line
Ship: Disney Magic
Why We Love It: Disney brings the same entertainment quality to its onboard shows as it does to its park-based productions and animated blockbusters. One of our favourites is "Tangled: The Musical," inspired by the fairytale-turned-Disney-animated-movie story of Rapunzel, who makes new friends (including character favourite Maximus) and falls in love on her journey to discovering she's the missing princess. We don't want to give away too much about the special effects, but we will say the "floating lanterns" scene is one of the most magical moments we've ever witnessed on a Disney ship.
4. "Magic Castle at Sea" on Crystal Cruises
Ships: Crystal Symphony and Crystal Serenity
Why We Love It: Some lines win with huge high-tech, high-energy shows to standing-room-only crowds. Crystal excels in intimate, high-quality experiences, and its best show follows that credo. Just 20 people at a time can attend this sleight-of-hand magic show, performed by a rotating roster of magicians. Even close-up, you'll be amazed at the tricks these magicians can pull off without you having any idea how they're doing it.
Related: What to Expect on a Luxury Cruise: Nightlife and Evening Entertainment
5. Shakespearean Plays on Cunard Line
Ship: Queen Mary 2
Why We Love It: Take a transatlantic cruise on Queen Mary 2, and you'll be treated to a rarity at sea: serious theatre performed by a renowned professional troupe. The Royal Academy of Dramatic Arts (RADA) posts actors onboard ocean crossings to perform hour-long versions of Shakespearean plays, such as "Romeo and Juliet" and "A Midsummer Night's Dream." The shows change every Transatlantic season, but the quality remains outstanding.
6. "Cirque at Sea" on MSC Cruises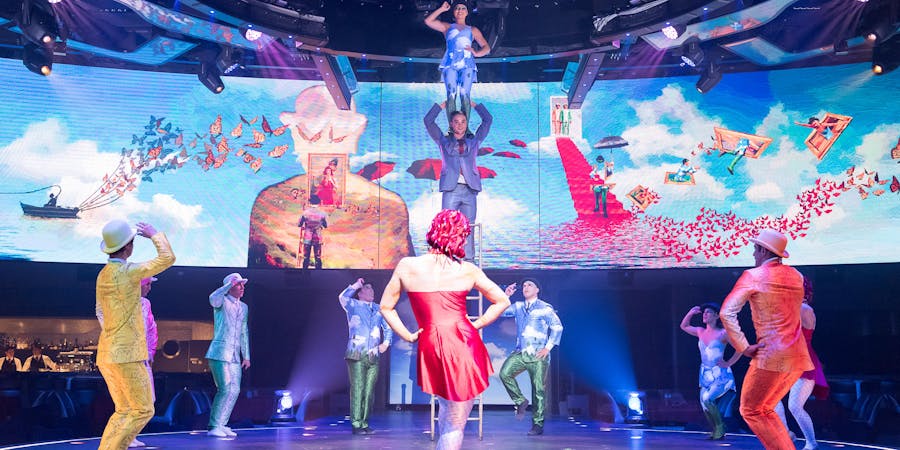 Ships: MSC Meraviglia, MSC Bellissima, MSC Grandiosa, MSC Virtuosa (in 2020)
Why We Love It: Astonishing acrobatics, weird Donnie Darko-style rabbits, audience participation, jelly fish, performers suspended from the wall, flying bicycles, juggling, floating spacemen -- the Cirque du Soleil team have created six (soon to be eight) unique shows for MSC which you can only see onboard -- and which are as funny, inventive and extraordinary as any you would see in Las Vegas.
7. BBC's "Planet Earth II in Concert" on Holland America Line
Ship: Shown on ships with itineraries lasting more than seven days.
Why We Love It: You'll feel like you're swinging through the jungle in Madagascar or facing off an Antarctic storm with penguins in "Planet Earth II." Live musicians perform dramatic scores onstage as BBC footage from around the world appears on the screen behind them.
8. Royal Caribbean's AquaTheater Shows
Ships: Symphony of the Seas, Harmony of the Seas, Allure of the Seas, Oasis of the Seas
Why We Love It: The concept of Royal Caribbean's AquaTheater is enough to make your jaw drop: high-diving and aerial performances in an amphitheatre-style pool at the back of the ship. Add state-of-the-art lighting and special effects bouncing off the water and two outdoor screens, and it's easy to see why any show at the AquaTheater is on the top of our list. Just be aware: If you're sitting in one of the first few rows, you're bound to get splashed.
9. Choir of Man on Norwegian Cruise Line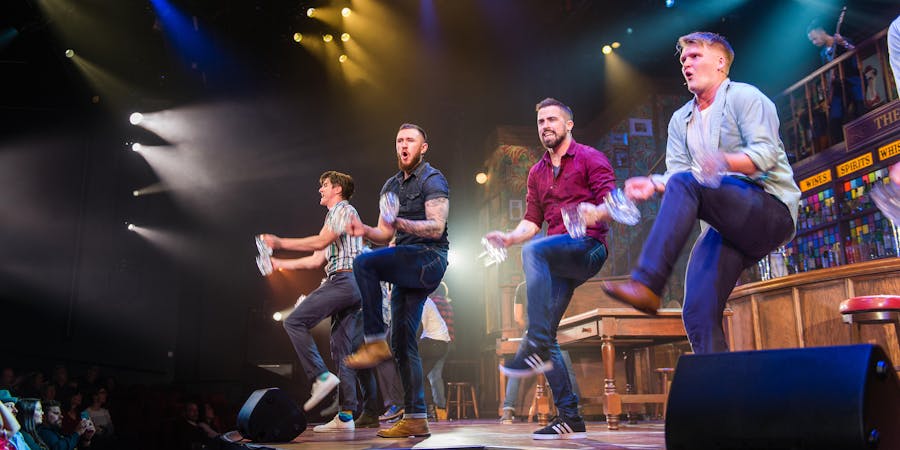 Ship: Norwegian Escape and Norwegian Encore
Why We Love It: The feel-good show from the UK brings together immensely talented singers for primarily a largely acapella performances set in a pub. With a loose plot, but plenty of spirit, great dancing and wonderful singing, the troupe harmonises its way through tunes from Paul Simon to Adele, Queen to Guns 'n' Roses. It's a theatrical treat that will keep you humming the rest of the cruise.