Take a slow boat -- or a ship for that matter -- add a train trip, and you have a rail-cruise holiday, which promises to transport you back to the golden age of travel.
Cruise passengers looking to add an extra special something to their voyage can reach new horizons with so-called rail-sail packages that bring another dimension to cruise holidays. Instead of simply transporting travellers from A to B, the train journey becomes a focal point of the holiday, and you can take your pick from the surprising range of rail rides that can be twinned with cruises to stunning effect.
Here is our top ten selection:
1. Rocky Mountaineer and Alaska Cruise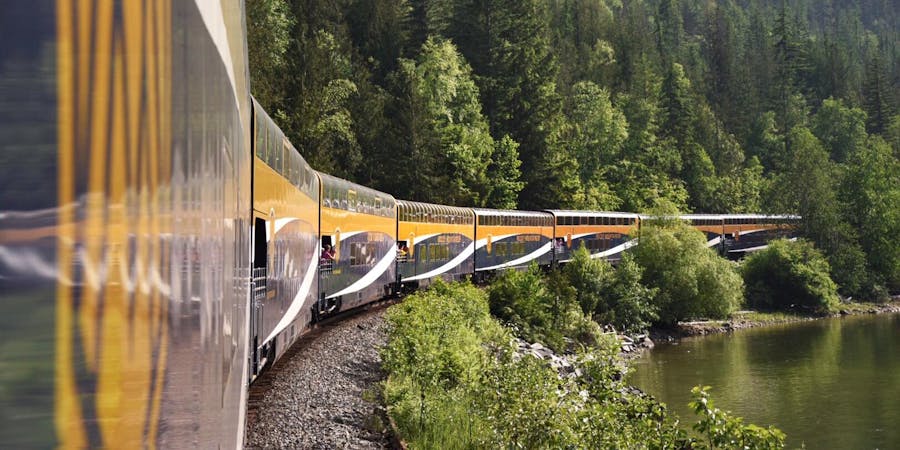 It's said to be the most popular rail/cruise combination for Brits, and it's easy to see why as this trip combines two of North America's great wildernesses -- the rugged Rocky Mountains and the icy wilderness of Alaska. Most travellers catch the Rocky Mountaineer train, boarding at the mountain towns of Jasper or Banff for the four-day journey across the spine of Canada to either Vancouver or Seattle before joining their cruise ship for a sailing into the heart of Alaska. Cruises along Alaska's Inside Passage showcase this remote region's stunning backdrop, from mighty glaciers and dramatic terrain to the Gold Rush-era history of the Yukon and Russian heritage around Sitka. Of course, you can do it the other around and save the train journey until after your voyage.
High points: Awe-inspiring scenery and the chance to spot bears and whales in their natural habitat.
---
2. Trans-Andean Railway and Galapagos Cruise
A wonderful rail-sail combo, this historic railway line, running along the roof of Ecuador through the Andes Mountains, was only restored in 2013, following a multi-million pound project that breathed new life into one of the world's most spectacular rail journeys. It stretches from Ecuador's capital Quito, connecting the Andean uplands where it rises to nearly 10,000ft, to the Pacific Coast and the port town of Guayaquil, departure point for cruises to the Galapagos Islands. Regarded as a triumph of engineering, it originally opened in 1908, but had fallen into disrepair. Now, passengers who join the train for the four-day journey travel through stunning mountainous terrain, of which the highlight is a descent, by steam train, down Devil's Nose -- a 262-foot cliff-face leading to the coastal plain. From Guayaquil, travellers can sail or fly to the Galapagos Islands, the legendary archipelago famous for its rich wildlife, with several indigenous species and animals that have no fear of humans. A number of small cruise lines offer sailings that range from a few days to two weeks and visit several islands, each one known for particular wildlife species.
High points: Unforgettable scenery, rich Ecuadorian culture and unique wildlife encounters
---
3. Venice Simplon-Orient-Express and Mediterranean Cruise
This has to be possibly the most famous rail/cruise trips. It combines an unforgettable journey through the heart of Europe aboard, arguably, the world's most famous train -- the Venice Simplon-Orient-Express -- with a cruise that departs amidst the romantic bellowers and palazzi of Venice. Start your journey in style from London's Victoria Station aboard the Belmond British Pullman and, after travelling through the Channel Tunnel, climb aboard the restored Art Deco carriages of the VSOE in France for the picturesque overnight journey through the Alps to Venice. From here, the delights of the Mediterranean and Adriatic coasts await, to be explored on the numerous ships that sail from the Renaissance city. Alternatively, take the VSOE as a fitting finale to your cruise as it follows the northwards route back to London.
High points: Reliving the glamour of the golden age of rail travel and sailing through Venice past St. Mark's Square.
---
4. Memphis-New Orleans train and Caribbean Cruise
America's railroads lend themselves to pairings with countless cruise and rail departures, and this particular route showcases the heritage of the country's Deep South. Starting in Memphis, the city linked inextricably with Elvis Presley and the growth of the Civil Rights movement, the six-hour Amtrak train route passes through Tennessee and the Mississippi Delta region into Louisiana, where the houses take on a more Gallic slant, and the train rolls past the bayous and swamps this state is known for. You may even spot basking alligators and pelicans. And then it's New Orleans, a city as famous for its French ambience as much as its musical vibe as the home of jazz. The location of the "Big Easy" on the banks of the Mississippi River makes it an ideal departure point for cruises to the Caribbean, with stops at islands including Jamaica and Grand Cayman.
High points: Musical heritage, American history and tropical hotspots
---
5. Oslo to Bergen by Train and Norwegian Cruise
Ride the rails across the "Roof of Norway" on the famous Bergen Line, for this hair-raising rail/sail adventure. It isn't only one of the world's greatest train journeys; it is also the highest line in Europe, climbing across the snowy Hardangervidda mountain plateau on a 306-mile route between Oslo and Bergen. En route it stops at Finse, which at 4,000-feet, is Europe's highest mainline station. The 7.5 hour journey can easily be combined with Hurtigruten sailings from Bergen that follow Norway's coastline northwards into the Arctic Circle, with stops including Alesund, Trondheim and the Lofoten Islands.
High points: Spectacular mountainous terrain, breath-taking fjords and bountiful sea life
---
6. San Francisco to New York by Train, Transatlantic Crossing to Britain
Travel across the breadth of America on a coast-to-coast rail journey from San Francisco to New York that lifts the curtain on America's heartlands. This 2,500-mile journey takes passengers through the stark beauty of the Rocky Mountains and vastness of the Kansas plains, passing through Salt Lake City, Denver and Kansas before rolling into Chicago's Union Station on the first two-night leg. Swap trains for the final overnight trip through Indiana and Ohio, skirting the Great Lakes before reaching Buffalo and then New York City. Travellers can spend a few nights here or head straight to the Brooklyn cruise port to catch Cunard's Queen Mary 2 for the seven-night transatlantic crossing to Southampton. Alternatively, do this in reverse, sailing to New York and taking the train to the West Coast instead.
High points: The vastness of America's hinterland, top cities and iconic transatlantic crossing
---
7. Eurostar to Europe and River Cruises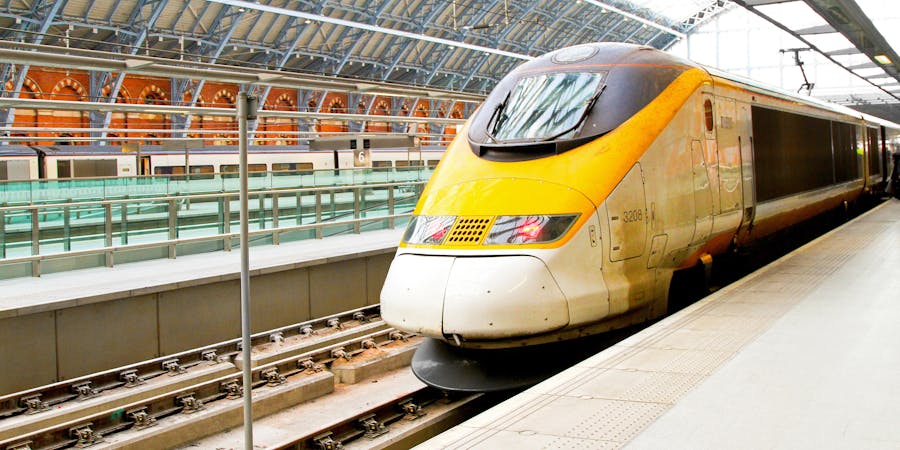 For travellers who like the ease of taking the train and avoiding flights, catching Eurostar opens up a host of cruise options. While dedicated rail-lovers can negotiate their way across Europe to sail from Mediterranean ports, some of the most popular and convenient rail/cruise combinations involve river voyages. The quickest and easiest pairing with Eurostar are Seine itineraries, which start and end in Paris, sailing through Normandy and visiting Claude Monet's gardens at Giverny en route. Another French spot within easy reach of Paris is Bordeaux, where cruises along the Garonne and Dordogne rivers provide a fitting taste of this rich wine region. Beyond that, travellers can venture further on Europe's railways, via major inter-changes at Lille and Brussels, in addition to Paris, to take river cruises along other continental waterways such as the Rhine and the Danube.
High points: The cultural and historical riches of Europe's most famous cities
---
8. Belmond Royal Scotsman and Hebridean Cruise
This rail-cruise combination explores the Highlands and islands of Scotland in typically traditional and upscale fashion, starting with one of Britain's most iconic trains. This is evident from the moment passengers are piped aboard the stately Royal Scotsman train at Edinburgh's Waverley Station for a two-, three- or four-night journey into the heart of the Scottish Highlands, visiting whisky distilleries, country houses, castles and gardens. It is followed by a voyage on the upmarket Hebridean Princess ship -- chartered by the Queen for her 80th birthday -- on sailings to the Inner and Outer Hebrides, visiting islands such as Lewis, Skye, Stornoway and St. Kilda.
High points: Scottish traditions, Highland heritage and unspoilt scenery
---
9. Eastern & Oriental Express and Asia Cruise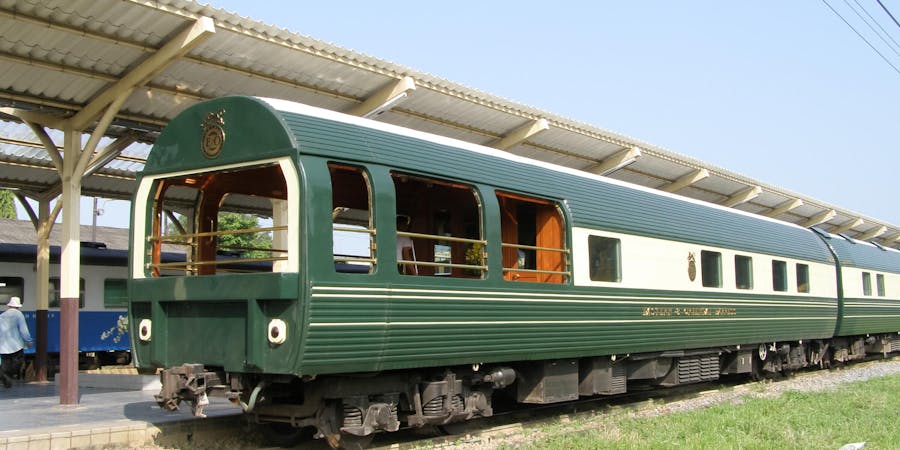 The sister of the Venice Simplon-Orient-Express offers similarly high standards as it travels between the tropical terrain of Bangkok and Singapore, and arguably a more exotic rail/sail experience. The three-night ride from the Thai capital takes passengers through paddy fields and past grazing water buffalo before stopping at the River Kwai, scene of the notorious wartime Death Railway. It continues through Malaysia's tropical hinterland, stopping at Butterworth for a visit to Penang Island before reaching Singapore. The city-state is a popular starting and finishing point for Asia cruises, making the train ride an easy option to slot on to sailings. Many ships departing Singapore offer cruises along the coast of Thailand and Vietnam, while longer voyages sail southwards to Indonesia and onwards to Australia.
High points: An evocative taste of the tropical hinterland, rich history and coastal beauty
---
10. Pride of Africa Train and Cruise
This cruise and rail journey means travel through some of Africa's most compelling landscapes on the Pride of Africa train that transports passengers back to its 1920s heyday and the halcyon age of rail travel. Passengers can relax in the teak-finished restored Pullman-style carriages on various routes across the southern part of the continent. The journeys between Pretoria and Cape Town, Dar es Salaam and Namibia showcase the region's national parks and wildlife along with the picturesque beauty of South Africa's Garden Route and the magnificence of Victoria Falls. A growing number of cruises depart from Cape Town, and occasionally from Dar es Salaam, for sailings to the Indian Ocean, along the African coast or further afield.
High points: Unbeatable wildlife, fascinating African tribal culture and natural icons