If you're reading this, it's likely you're not on a cruise right now. But what's the next best thing? Watching the view from your favourite ship or port, of course. Keep up to date with the comings and goings via these live cruise webcams from some of the most popular cruise ships and ports. They might just help you to feel like you're actually there.
Editor's note: Cruise lines and ports are only listed if they had active webcams at the time of publication. Some links point to aggregate pages to access the cameras from multiple ships, while others go to individual ship cams. Feed functionality and quality are subject to change at any time and are dependent on many factors, including weather, connection speeds and the whims of cruise line and port officials.
---
Cruise Ship Webcams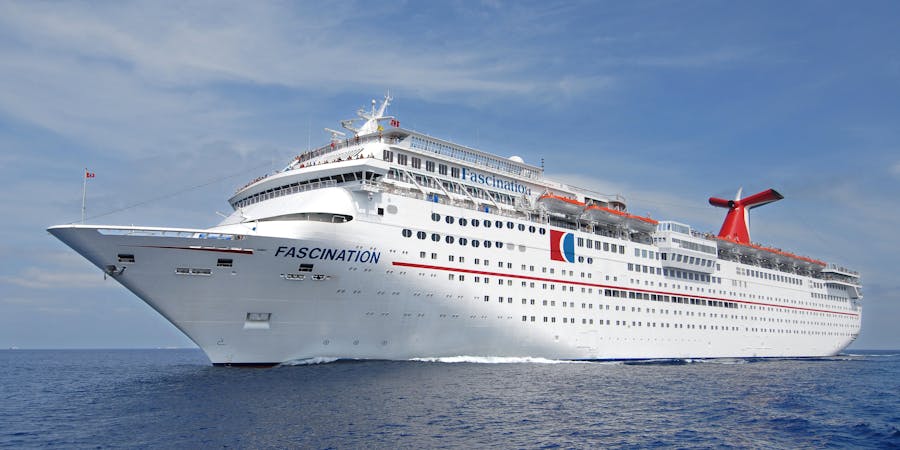 Carnival Cruise Ship Webcams
Carnival Cruise Line's ships' webcams can all be found on one
convenient page
. Simply drag the cartoon ship to the corresponding location to see ships at sea, at the cruise line's private island or in ports of call. They'll show up, labelled, on a map for easy viewing.
---
Norwegian Cruise Ship Webcams
Norwegian Cruise Line has webcams on select ships in its fleet. Although we weren't able to find an aggregate ship webcam page, we did find that it's easy to view individual ships via a simple Google search. Here is a link to the
Norwegian Bliss webcam
, for example.
---
P&O Cruises Ship Webcams
Follow your favourite P&O Cruises' ship around the world with this practical link to the
fleet's webcams
, which also provide a map and details of each ship's current itinerary.
---
Princess Cruise Ship Webcams
Another cruise line that makes webcam viewing easy is Princess Cruises, which houses links to all of its ship cams on a
single page
.
---
Royal Caribbean Cruise Ship Webcams
Several of Royal Caribbean's ships used to have webcams, but the only one we found that's currently operational is the
webcam on Independence of the Seas
.
Cruise Port Webcams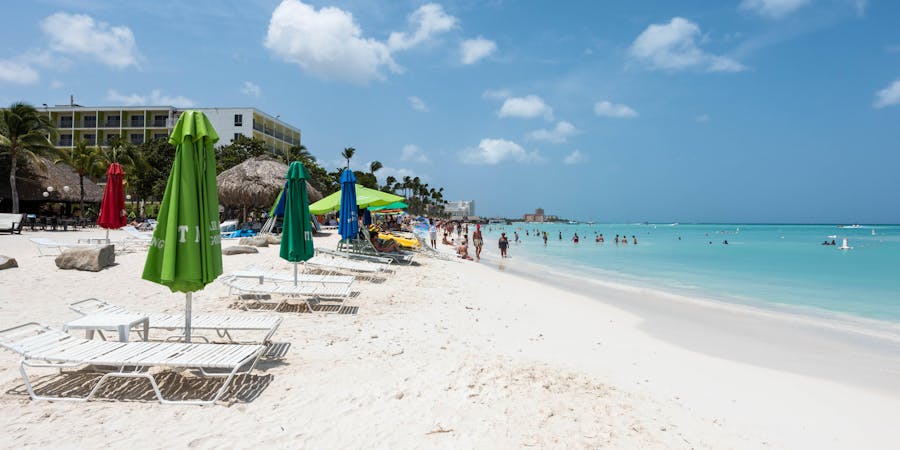 Aruba Cruise Port Webcam
The Port of
Aruba webcam
shows a live feed of the cruise ship docking area. Hit the play button, skip the ads, and prepare to watch.
---
Cozumel Cruise Port Webcam
Grab your favourite tropical cocktail, and view up to four ships at once with the
Cozumel cruise port webcam
, which broadcasts via a live YouTube feed.
---
Grand Cayman Cruise Port Webcam
This
trio of webcams at Grand Cayman
shows the outdoor cruise port facilities, the dock and cargo facilities.
---
Grand Turk Cruise Port Webcam
The
webcam for Grand Turk
's cruise centre features still images that are updated every few minutes.
---
Juneau Cruise Port Webcam
With this
webcam in Juneau
, Alaska, not only will you get a view of ships docked in port, but you'll also catch an eyeful of floatplanes and the gorgeous scenery surrounding it all. Just click play, and skip the commercial to start watching.
---
Ketchikan Cruise Port Webcam
Although the
Ketchikan webcam
is a still shot that's updated every few hours, it's a great way to get a look at three of the port's four cruise ship berths.
---
Key West Cruise Port Webcam
This
rotating webcam in Key West
, set atop the Shipwreck Museum's tower, offers sweeping real-time views of the Key West Harbor. Press play, and skip the commercial to stay updated on cruise ship arrivals and departures.
---
King's Wharf Cruise Port Webcam
This rotating live view from the
webcam at the Royal Naval Dockyard in Bermuda
shows the naval yard, as well as the cruise ship dock. Click the play button, and bypass the commercial to get started.
---
Miami Cruise Port Webcam
Port Miami, one of the busiest cruise homeports in the world, offers live panoramic views. To watch the
Miami webcam
, just click on play, and skip the ad.
---
Nassau Cruise Port Webcam
Nassau's webcam
shows live views of the cruise ship docking area from the top of a nearby hotel. Hit the play button, and bypass the ads for plentiful vessel views.
---
Panama Canal Lock Webcams
Once-in-a-lifetime views can now be accessed daily via
webcams at the Gatun and Miraflores Locks along the Panama Canal
. See ships carefully maneuver through -- with mere inches to spare on each side -- during their journey along one of the most impressive modern marvels of engineering. Tabs on the page allow you to toggle between the two high-resolution views. You will need to enable the Adobe Flash player to watch.
---
Port Canaveral Cruise Port Webcam
Check out your favourite ships as they come and go with live views from the
Port Canaveral webcam
, set at nearby restaurant Fishlips. Be sure to click the play button and skip the commercial to start the feed.
---
Port Everglades (Fort Lauderdale) Cruise Port Webcam
Fort Lauderdale's Port Everglades webcam
is another way to keep tabs on the constant influx of ships in Florida. Check out dock views by pressing the play button and bypassing the commercial.
---
Roatan (Mahogany Bay) Cruise Port Webcam
Although it won't give you a view of the ship, this
Roatan webcam
shows you the outdoor port facilities area at Mahogany Bay. The view is a bit hazy, and it's a still photo that's only updated once every few hours, but if you're missing Roatan, this is a good way to get your fix.
---
Seattle Cruise Port Webcam
For some North America homeport action, this view from the
Seattle waterfront webcam
will show you the latest happenings via still shots that are updated every few minutes.
---
Vancouver Cruise Port Webcam
For
webcam views of Vancouver
, you won't want to miss this feed, which offers two perspectives -- one zoomed in and one panoramic -- of the Canada Place cruise terminal docks.