Cruising and enjoying fresh air go together like a nice steak and fine wine. That's why making use of a cruise ship's stunning ocean views and open decks makes complete sense when creating the atmosphere for an onboard restaurant.
Alfresco, or outdoor, dining is not a new concept but has seen more recent innovation at sea. Moving beyond just the pool grill, cruise ships embrace everything from backyard-style grill venues to pop-up restaurants that create a unique and romantic ambiance on the open decks. One cruise line even offers an entire promenade of restaurants with open-air seating.
If savouring a meal under the sun or stars appeals to you, read on to find out which cruise ships offer the best alfresco restaurants at sea and why.
1. The Waterfront (Various Restaurants) on Norwegian Cruise Line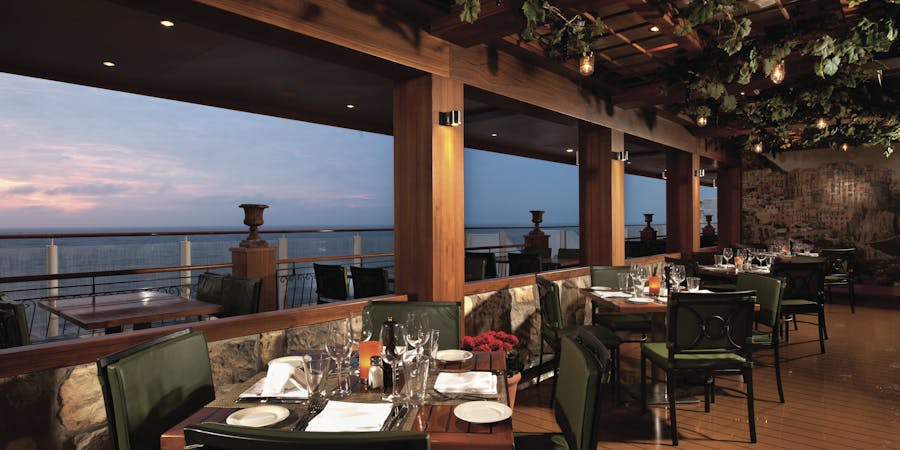 The Waterfront concept, a promenade featuring open-air bars and restaurants, debuted on Norwegian Getaway and has grown with successive ships such as Norwegian Escape and Norwegian Bliss. The neat thing about Norwegian's Waterfront is the choice of alfresco seating at passenger's favourite fleetwide restaurants. These include La Cucina for Italian cuisine; Cagney's, Norwegian's signature steakhouse; Ocean Blue, a modern seafood-forward fine dining venue; and Brazilian-style churrascaria, Moderno.
Onboard Norwegian Escape exclusively, diners will find Bayamo, a Latin-inspired establishment that focuses on seafood like ceviche and lobster, with stylish seating overlooking the ocean. All restaurants serve an a la carte menu, not included in the cruise fare.
---
2. Earth & Ocean at The Patio on Seabourn Cruise Line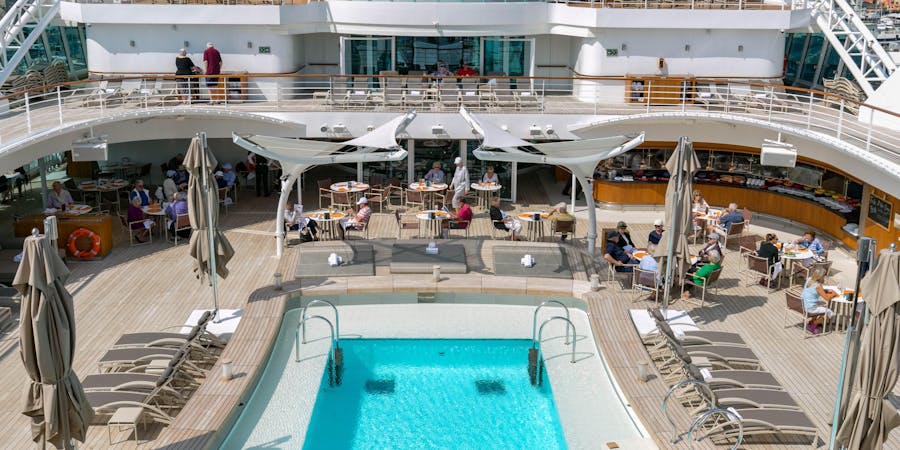 This dining experience, which takes place outside at Seabourn's poolside grill The Patio, aims to bring cruisers elegant but simply prepared dishes from around the world. Paired with its own distinct table settings and background music, Earth & Ocean impresses diners with attention to detail and dishes like bao buns, shareable oven-baked Brie with rustic bread and a pot of honey mustard, and a daily tagine (dish cooked in a ceramic Moroccan pot).
While the atmosphere is decidedly casual for this luxury brand (blankets are on hand for chilly nights), the food and service still aim to exceed expectations -- and the menu changes each evening. As with all of Seabourn's onboard dining, Earth & Ocean is included in the cruise fare. Dinner service at this alfresco eatery launched with Seabourn Ovation, but will be fleetwide by spring 2019.
---
3. Lawn Club Grill on Celebrity Reflection and Celebrity Silhouette
Anyone who has sailed onboard a Celebrity ship with a Lawn Club understands the enchanting dynamic of a lush green expanse of grass floating through the middle of the sea. On two of Celebrity's ships, cruisers can soak in these unique top-deck surroundings while mastering their grilling techniques.
The Lawn Club Grill is open for dinner (and at least once per sailing for lunch) to allow passengers to work with a chef on preparing steaks, kababs and more for their table; or, kick back like you're truly on holiday and order to your stomach's content. Crowd favourites include the lobster mac 'n' cheese, build-your-own flatbreads and warm fruit cobbler. The Lawn Club Grill also serves beer flights and bloody marys. This outdoor, interactive venue carries an additional cover charge.
---
4. Hot Stone on Marella Celebration and Marella Dream
Hot Stone at the Terrace Grill is Marella Cruises' alfresco for-fee dining option that opens from 6:30 p.m. in what is the Terrace Grill during the daytime. It's currently offered on the line's popular classic ships, Marella Celebration and Marella Dream, and the concept involves passengers cooking their own main course on a hot stone plate.
It's a fun and theatrical dining experience, with a waiter tying a bib around passengers to prevent any unsightly spillages. Dishes include tuna steak, lamb cutlets, port chops and a surf 'n' turf of filet mignon and lobster tail, with a sharing plate presented for starters and desserts.
The experience of dining under the night's sky, with a gentle breeze blowing in the air, is romantic and perfect for an onboard date night with your other half. It's also extremely reasonable, at £15.95 for three courses.
---
5. Guy's Pig & Anchor Bar-B-Que Smokehouse on Carnival Cruise Line
While we didn't include traditional Lido Deck eateries in this list, we've made an exception for celebrity chef Guy Fieri's barbecue joint found on select Carnival ships. The reason is that onboard Carnival Horizon, Guy's Pig & Anchor is a stand-alone space with permanent outdoor smokers as well as a craft microbrewery. (The word "Brewhouse" is even added to the name onboard Horizon.)
The restaurant is open primarily for lunch across most ships, and diners can nosh on pulled pork and smoked brisket all afternoon, along with comfort-food sides like potato salad and collard greens. At night on Horizon, the smokehouse shines during dinner with an expanded menu (think cornbread, salmon and ribs, for starters) and live country music. Only dinner and drinks at Pig & Anchor are priced a la carte; the rest is free.