Bike rental shacks and tour guides in cruise ports around the world are oiling up their chains and mounting baskets to the handlebars of their fleet, as passengers hop on bikes to explore ports and the surrounding countryside on more active excursions.
On river cruise ships across Europe -- where most cities are bike-friendly -- you'll often find a handful of bicycles onboard for passenger use. You won't typically find oceangoing cruise ships with bikes, and if you do, they're for crew use only. But no matter if you're sailing on a river or the high seas, renting a bike in port or joining an organised excursion are equally great options for exploration.
Whether a bicycle tour is an excursion offered on your cruise, your riverboat offers complimentary bikes or you want to rent two wheels for the day and ride out on your own, it's time to take your spin class seriously and get ready to cycle through some beautiful ports on your next cruise.
These are our picks for some of the best cruise ports around to explore on two wheels.
Amsterdam, The Netherlands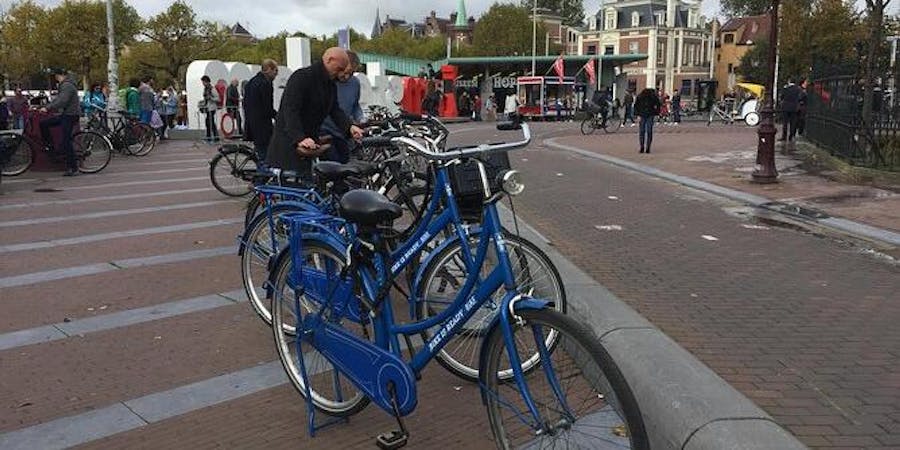 There is no city in the world more synonymous with bikes than Amsterdam. As well as having the advantage of being almost completely flat, the city's network of dedicated bike lanes, bike parking, signage and bike rental schemes -- as well as the precedence given to bikes over any other mode of transport -- makes it probably the safest and most pleasant biking city in the world.
In the Netherlands as a whole, more than 30 percent of all journeys are made by bicycle and virtually all Dutch children cycle to school.
Bike rental shops can be found all over the city, mainly in tourist areas like Central Station and Dam Square which are just a few minutes' walk from the port. Day rates start at as little as eight euros -- and there are even free white bikes dotted around the city which you just pick up and leave when you are done!
Note that the city has one of the highest rates of bike theft in the world, so do pay a little extra to get a lock and comprehensive insurance.
In terms of routes, you can literally bike the entire city in complete safety and comfort. And if you have time there are a number of easily accessible spots just outside of the city in the beautiful Dutch countryside that are worth exploring including Ouderkerk Aan De Amstel and the so-called Amsterdam Forest, Amsterdamse Bos.
Halifax, Nova Scotia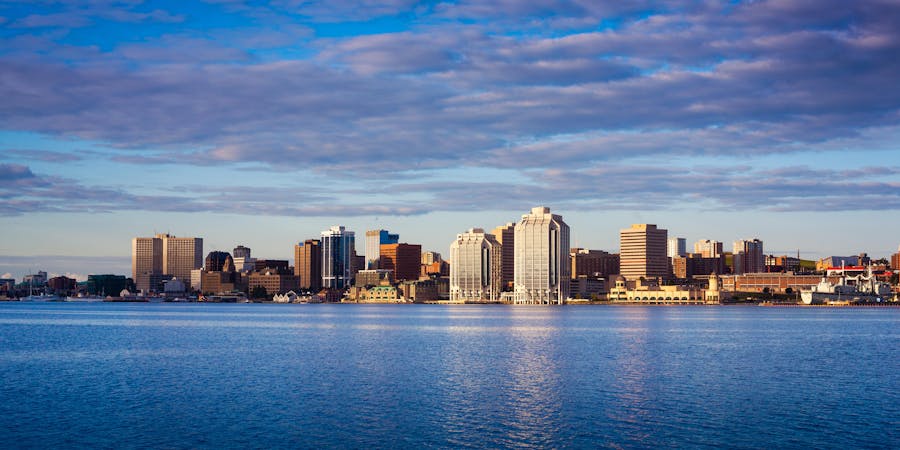 Since 2006, Halifax has been expanding the city's network of bike trails and bike-friendly roads. In that time, more than 62 miles of bike lanes and off-road trails were added.
Right on the waterfront, I Heart Bikes rents electric bikes, road bikes, city bikes and hybrids, and offers guided tours. Prices are good -- from $25 to $55 CAD per day (about 14 to 32 GBP) for rentals -- and there are a lot of options. As with most bike shops, it will provide maps and tips for routes.
Tours of the city via electric or traditional bike start at $60 CAD (35 GBP) and explore the heart of Halifax, from its shopping and nightlife districts to its historical sites (including the city's tie to the Titanic). You can even join tours that stop at a popular lunch spot and visit additional historical sites.
If you head out independently, start on the waterfront and pedal to Point Pleasant Park, an easy and lovely route for beginners or for experienced riders to use as a warmup. You can ride on a rails-to-trails path (a converted railrway track that's now a walking/bike path) on the Salt Marsh or Shearwater Flyer trails, which are both around 4.4 miles long.
Key West, Florida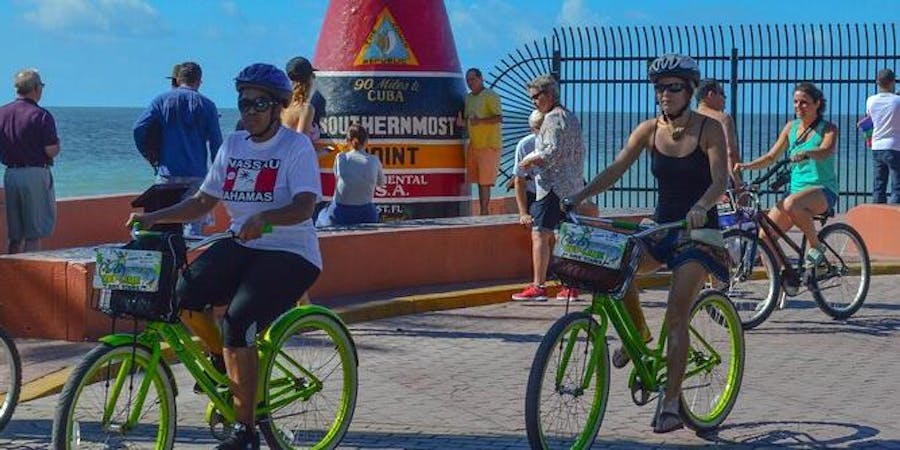 Key West is one of those cruise ports where you'll see as many flip-flop-wearing bicyclists as you will cars, and if you want to take part, the whole Key West is easy to bike around. Fury Water Adventures rents bikes and will even deliver them to you at the pier. Rates start around $15 per day (about 11 GBP), making it affordable to get the whole family or group together for a ride around town.
From the dock, you'll be in Old Town on the north side of the island in minutes; pedal past the multicoloured houseboats and fishing fleet at Garrison Bight Marina, visit Mallory Square or pedal around the oceanfront Fort Zachary Taylor State Park (highly recommended).
Of course, you can see all the hits by bicycle: the Ernest Hemingway Home and Museum, the Historic Seaport and Harbor, Higgs and Smathers beaches, and the iconic Southernmost Point buoy. Given a day in port, you can aim to see all the sights or just pick a few and spend the remainder of the day sipping, sunning and following your heart's desire.
Vienna, Austria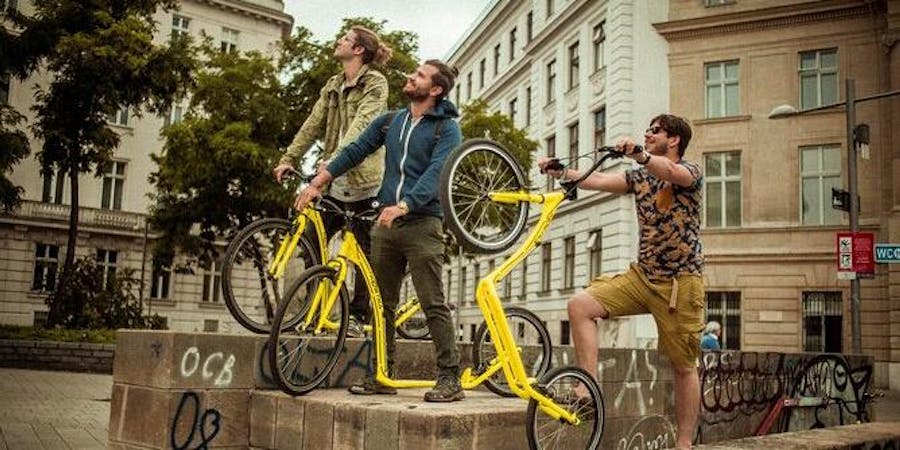 When river cruise ships dock in Vienna, most passengers board coaches for their tours of the city or to reach the museums, halls, cathedrals and shopping close at hand. Why not do it by bike? This bike-friendly city has a whopping 807 miles of cycling paths that crisscross the city.
Citybike, the bike rental programme, is available at more than 120 stations across Vienna. As a culture used to cyclists, all you need to do is stay alert, go with the flow and follow your map from sight to sight.
What can you see? Well, along the city's Ringstrasse Route, which circles town, you'll see the Johann Strauss monument in City Park, the stunning architecture of the Vienna State Opera and Imperial Palace, and the Museum of Fine Arts and the MuseumsQuartier, one of the largest museum districts in the world.
It doesn't matter when you visit; the bike paths are busy every season. Don't be surprised if you see residents with the day's shopping, a few flowers ready to be potted or even bundled up and pedalling gifts from one of the Christmas markets home for wrapping.
Kotor, Montenegro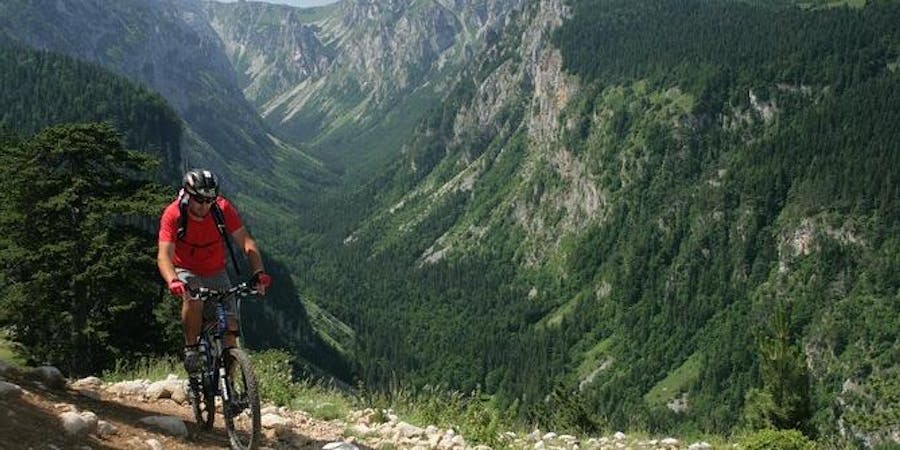 It is hilly in Kotor, but the city and surrounding area are popular with cyclists. Routes range from leg-burning courses into the mountains around the gulf to relatively flat routes around the waterfront, so you'll be able to find an excursion that matches your experience level.
Kotor Bay Tours has a fleet of bikes for rent, allowing you to explore the city, peninsula and hills. Rentals are 20 to 25 euros (roughly the same in GBP) for 12 hours. It also offers bike tours -- a fantastic introduction to the city. Its Tour de Bay ride is long -- around 45 kilometers (nearly 28 miles) -- but flat and lovely. Tours range from 70 to 80 euros.
Vrmac by Bike has you climbing to the top of the hill surrounding the bay for a big view and the chance to catch your breath before riding downhill and joining the flat coastal road for the ride home. Its Bike and Hike option lets you explore on two wheels and your own two feet as you bike to one of the abandoned villages overlooking the Bay of Kotor for a light lunch before cycling back to town.
Stavanger, Norway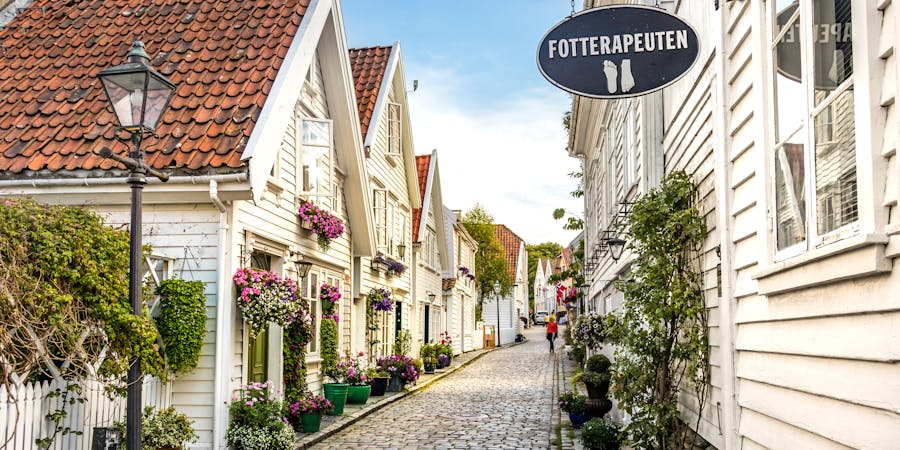 Norway is a paradise for lovers of the outdoors. Kayaking in the fjords, hiking to high peaks and fields rich with spring flowers or snowshoeing, skiing or dogsledding across the snow are all well-known ways to get outside. But bicycling through the towns and mountains has garnered more attention of late.
Stavanger is the perfect port for getting a taste of Norway by bicycle. On a bike tour of Stavanger with Pulpit Rock Experience, you can join a four-hour, 22-mile bike ride in and around the city for about £71 GBP.
Sights will include the town's 18th- and 19th-century red-roofed houses and historic neighborhoods, Ullandhaug, the city's highest hill offering panoramic views good enough to make you want to move there, and the historic Swords in the Rock monument. All of this while the rugged Atlantic coast and saw-toothed mountains beckon in the distance.
Brussels, Belgium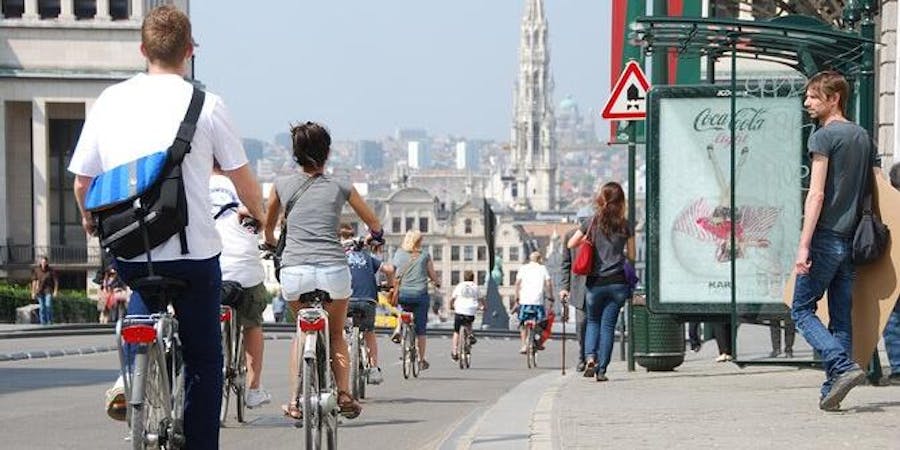 Belgians love their bicycles, and one glance at the street tells you all you need to know: Cycling traffic meets or beats the number of cars on the road. It seems that everyone, regardless of age, cycles everywhere. Naturally, when your cruise calls on Brussels, you'll need to get in on the action.
There are automated bike rental kiosks from Blue-Bike and Villo! all around the city, but it's best to join a bike tour and explore with a local. Groovy Brussels takes you on, well, groovy tours. It has a chocolate tour, a cycling tour of town (with a stop for lunch so you can have some frites and beer) and tours that include brewery visits.
Cactus Tours offers weekend tours of the city and its various neighborhoods, with stops to shop, eat and grab a drink. Even the city's bike couriers get in on things through Pedal Brussels Bicycle Couriers, offering a limited selection of road bike tours for experienced riders.