Not so long ago the paparazzi didn't have much call to hang around cruise ship terminals. Today, though, quayside photo calls are on the up, as cruise lines enlist increasingly high profile people to both christen ships and to deliver creative food, drink and music concepts onboard.
While she might not technically be an ambassador of a cruise line, we can't talk about celebrities and cruising without including the (unofficial) godmother of the high seas -- Jane McDonald. Jane has sailed on just about every line you can think of, including MSC Cruises, Silversea and Viking, and regularly features on TV screens as the voice of cruising in her popular Channel 5 show, "Cruising with Jane McDonald".
Here's a round up of more A-listers making a splash at sea.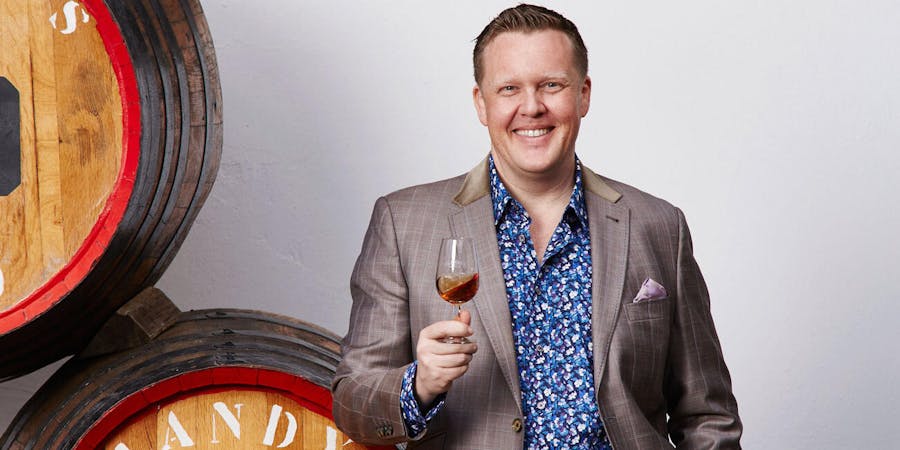 1. Olly Smith, P&O Cruises
You'll find words like quaff, sip and swill on Olly Smith's CV. He's the award-winning wine expert who gained celebrity status through his cameos on primetime morning and weekend television shows such as "This Morning" and "Saturday Kitchen".
As far as P&O is concerned, Smith is the brains and the taste buds behind the line's Glass House wine bars. He opened the first one on Azura in 2010 and three more followed, on Ventura, Aurora and Britannia, in slick succession. The Glass will also be a fixture on the line's next new ship, Iona, that debuts in 2020.
Smith's aim with The Glass House was to create a "library of wine" that would be able to take passengers on a "journey within their journey". He's also overseen The Glass House food menus, which are designed to complement the tipples on offer.
Several times a year, Smith can be found onboard P&O's ships, delivering wine tasting events, hosted taster diners, meet and greets and Q&A sessions, as part of the line's Wine Adventures itineraries.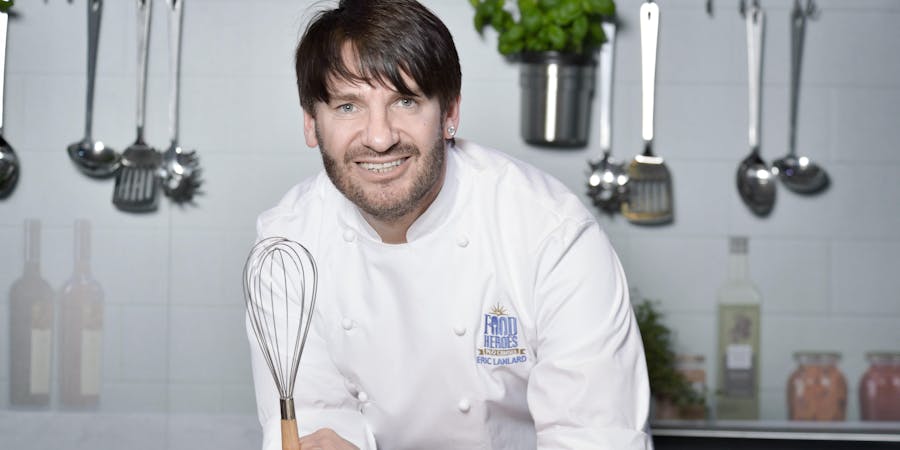 2. Eric Lanlard, P&O Cruises
Celebrity chef Eric Lanlard is P&O's pastry purveyor. Earmarked as one of the best patissiers in the world by Vanity Fair magazine, he's been responsible for creating the sweet treats menu on offer in the Market Cafe on Britannia. Guests can clock up the calories with everything from sticky waffles to lace-light crepes.
Lanlard has also masterminded P&O's Afternoon Tea menu that's available on selected days in the Epicurean restaurants on Azura, Britannia and Ventura and in the Ocean Grill on Arcadia. Lanlard has been allowed to go slightly rouge with this offering. Alongside the traditional scones with clotted cream and jam you'll find inventions such as pancetta and porcini eclairs and bee pollen scones.
Just like Smith, Lanlard also ventures onboard P&O's ships several times a year as part of the line's Food Heroes cruises. Catch him running masterclasses, hosting dinners, taking part in signings, Q&As, and leading foodie shore excursions.
3. Alex James, P&O Cruises
Once the bassist for British indie band Blur, Alex James swapped guitars for gouda to become one of the UK's leading cheesemakers. He is to P&O's cheese offering what Olly Smith is to the line's wine options. Since 2017, it's been his role to make and select cheeses for menus in restaurants across the fleet.
Options can range from a silky blue cheese called Blue Monday to goats' cheese swaddled up in the likes of thyme leaves.
In 2018, it was announced that James had also been signed up to create the onboard playlists for Iona when the ship debuts in 2020.
4. Craig Revel Horwood, P&O Cruises
Craig Revel Horwood is the judge with the panto villain personality from smash hit television show Strictly Come Dancing. Since the early twenty teens he's been taking part in P&O's "Strictly Come Dancing" themed cruises.
Run roughly eight times a year, across the fleet, these itineraries give passengers the opportunity to both watch and interact with stars from Strictly Come Dancing through a series of performances, hosted meals, Q&As and private dance lessons.
Horwood will be onboard two sailings in 2019. Plus, he'll be one of the special guests attending the Strictly-inspired night that will take place in The Limelight Club on Iona in summer 2020.
5. Rob Brydon, P&O Cruises
Welsh stand-up comedian and impressionist Rob Brydon is best known for hosting and taking part in some of the UK's most popular comedy panel shows, including "Would I Lie to You?" and "Have I Got News for You".
In 2014, he added a new string to his bow when he became the star of P&O's new multimillion-pound television advertising campaign "This is the Life".
Taking on the role of fictional cruiser, Huw, Brydon featured alongside his on-screen wife and son to showcase the cultural side of cruising.
Fast forward five years and Rob has starred in several more commercials for the line, shooting everywhere from the deserts of the UAE to the canals of Venice.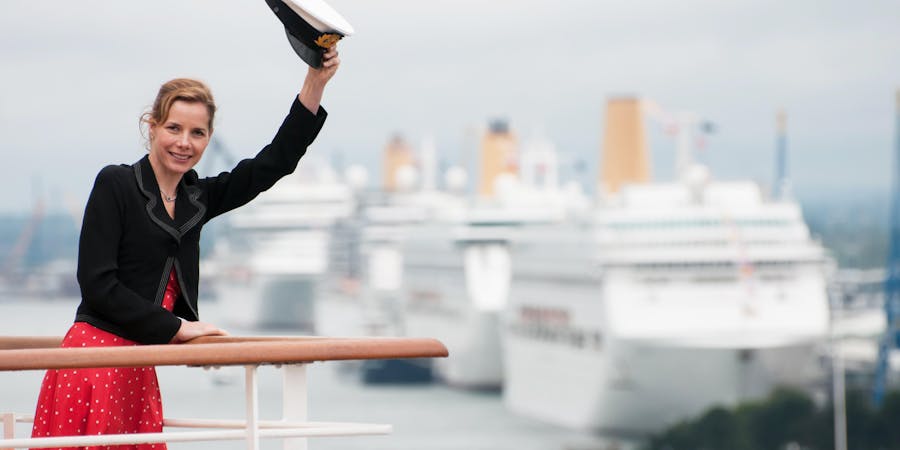 6. Darcey Bussell, P&O Cruises
Former prima ballerina for the Royal Ballet and past Strictly Come Dancing judge, Darcey Bussell is the godmother of P&O's Azura.
Dressed in a scarlet Jasper Conran dress, worthy of a recital of Chris de Burgh's Lady in Red, Bussell officially named the ship at a ceremony in Southampton in spring 2010.
P&O explained that they offered the dancer the role because she epitomised the glamour, sophistication and elegance that the line had strived to achieve with Azura.
7. Jools Holland, Saga Cruises
Famous for his Mach-fast fingers, virtuoso pianist and composer Jools Holland has just leant his name to the new steakhouse restaurant and music club on Saga's newest ship Spirit of Discovery.
Named "The Club by Jools", the venue will be one of three specialist restaurants onboard the new ship. It's been designed to look like a 1950's cabaret club and it will serve up cocktails, live music and a menu of prime-cut steaks until late into the evening.
At the heart of the space will be a grand piano and Holland has confirmed that he'll be taking to the ivories himself on selected sailings in 2019 and 2020.
8. Phillip Schofield, Princess Cruises
Phillip Schofield is the UK's pet television presenter. The pewter-haired national treasure started his career announcing children's television programmes alongside the puppet Gordon the Gopher back in the 1980s. Today, he fronts prime-time morning chat show "This Morning" alongside co-host Holly Willoughby.
In 2017, Schofield was picked to be Princess Cruises' brand ambassador and invited to embark on his first ever cruise, filming his experiences along the way.
His first trip took him along the Italian coast onboard Crown Princess. In summer 2018, he sailed around the Baltic on Regal Princess.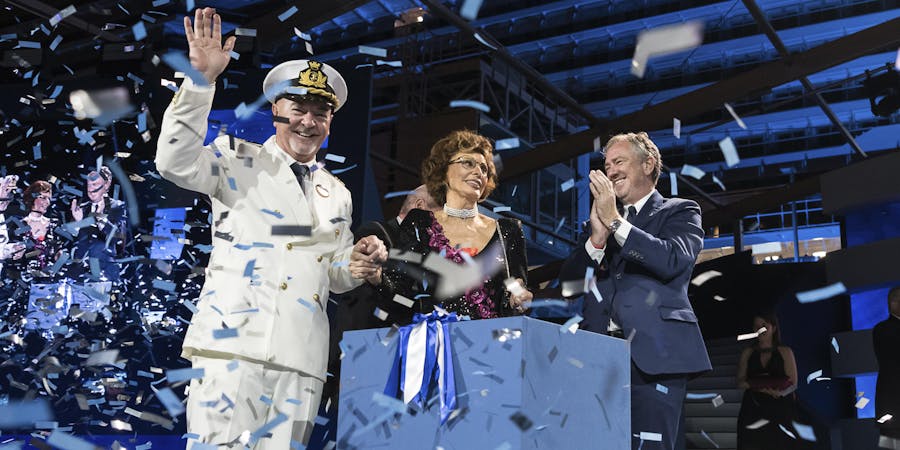 9. Sophia Loren, MSC Cruises
1950s screen siren and Hollywood icon Sophia Loren has made more than 40 movies and, at the rate she's going, she'll soon have christened as many ships.
To date, the 80-plus-year-old glamour puss has become the godmother of 14 different MSC ships. With 13 more vessels planned for the fleet, there's a chance she'll soon become godmother of several more.
Loren named her first ship, MSC Lirica, in 2003. The most recent was MSC Bellissima in March 2019.
The actress has also had a cruise ship suite named after her. Available on MSC Divina, which Loren launched in 2012, it's got a boudoir-feel to it with plush red velvet curtains, plump scarlet cushions and black and white Loren photos on the walls.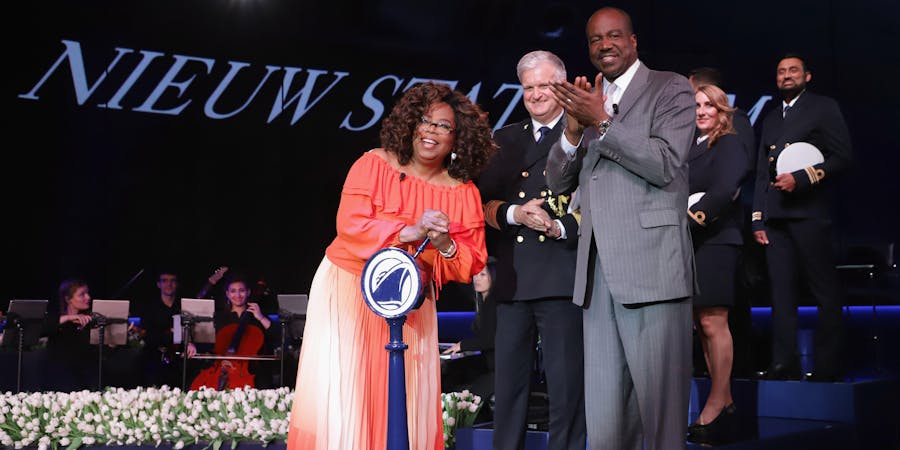 10. Oprah, Holland America Line
Oprah needs no introductions. As much of a household name as Hoover, she's the grande dame of the American chat show.
In early 2019 she became the godmother of Holland America's Nieuw Statendam at a ceremony in Fort Lauderdale's Port Everglades.
But Oprah has done more than crack a bottle of fizz against the ship's hull. She's worked with HAL to develop a range of onboard activities and experiences for the line. Available across the fleet, O Programming includes meditation sessions, yoga and access to the O Reading Room where passengers can read Oprah's latest book club books and take part in literary discussions.
11. Mark Ronson, Virgin Voyages
Mark Ronson will bring a whole new meaning to the term ship decks, when Virgin Voyages launches its first cruise ship, Scarlet Lady, in 2020. The superstar DJ has been chosen to be the brand's "Minster of Music". As such, he'll be responsible for curating pre-voyage and onboard play lists and cherry-picking the vinyl selection that will be available in both the ship's RockStar suites and its music store.
In addition, Ronson has been signed up to play a number of live gigs at The Beach Club in Bimini -- a private beach club in the Bahamas that's exclusive to guests on the Scarlet Lady.
12. Geri Horner, Virgin Voyages
Spice Girl Geri Horner, formerly known as Geri Halliwell, is a spokesperson for Virgin Voyages. She's linked to Branson through his involvement in promoting the Spice Girls' tours.
Branson has explained how he wants his cruise line to have a strong musical identity. In May 2019, he chose Geri to deliver the news to the UK media that the Scarlet Lady would be calling into the UK ports of Dover and Liverpool.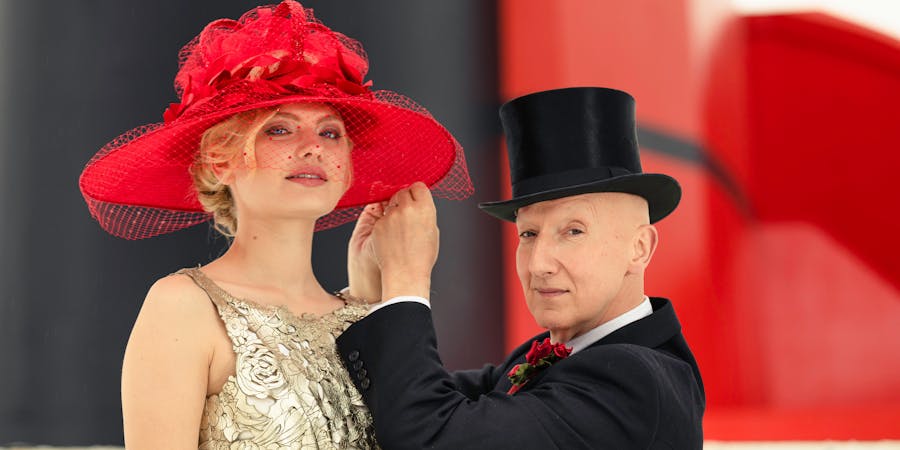 13. Stephen Jones, Cunard
The word "hat" isn't really enough to describe the high fashion headgear that Stephen Jones OBE devises. His millinery creations have taken the form of everything from a life-sized replica of a swan, in which the wearer's head filled the space where the legs should be, to a golden bunny-face cap.
His pieces regularly grace the covers of leading couture magazines such as Vogue and Harper's Bazaar and he counts the royal family amongst his regular customers.
In May 2019, Jones announced that he had crafted a hat just for Cunard. Made to feature in the fashion show of QM2's Transatlantic Fashion Week sailing, the Porsche-red hat was designed to reflect the glamour of ocean travel.
Jones also revealed that he'll be onboard during the transatlantic voyage, too, hosting a series of talks and Q&A sessions alongside shoe designer Stuart Weitzman, fashion journalist Hilary Alexander OBE and fashion PR expert Lindy Woodhead.