Whether it's coffee and croissants on your balcony or pizza and a movie in your cabin after a long day on the beach, room service is the kind of we're-not-at-home luxury we cruise for. It's convenient on mornings with early shore excursions and decadent on days when wearing your jammies until dinner is your idea of a restful vacay. Families cruising with children rely on it to relieve the stress of mealtime in crowded dining rooms. And who doesn't need an afternoon pick-me-up of cookies or nachos?
While it used to be that most food delivered to your stateroom was included in your cruise fare, there are now exceptions. We've scoured the policies and menus for the details on room service fees and the extra charges of the major cruise lines to help you avoid surprises.
If you're wondering whether a cruise ship room service fee replaces a tip, the answer is no, it does not. Tips for room service waitstaff are generally expected at the time of delivery unless the menu specifies that a gratuity is being added automatically. The exception is a room service meal served by your butler, who should be tipped at the end of the cruise on lines where tips are not included.
Carnival Cruise Line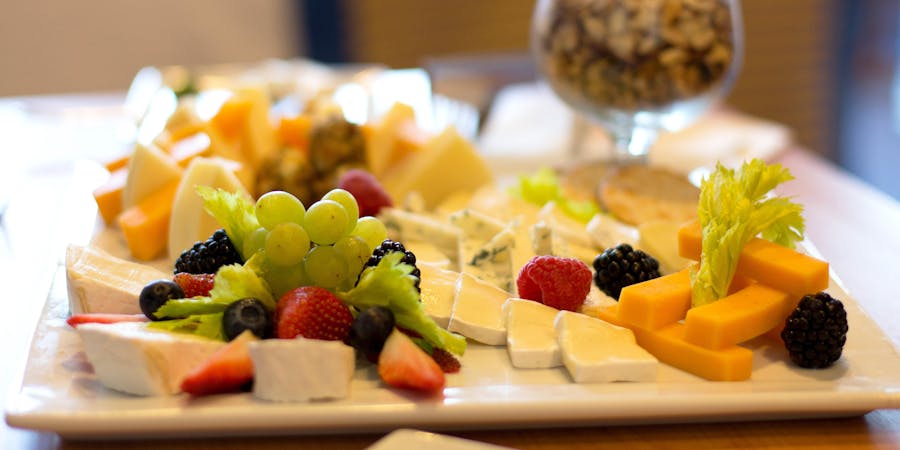 Carnival offers a variety of fee-free food on its room service menu, including continental breakfast, sandwiches and some desserts, along with juices, coffee, tea and milk from 6 a.m. to 10 p.m. There are small charges from $2 to $6 during the day for things like quesadillas, pizza, fries and banana splits.
All late-night room service from 10 p.m. to 6 a.m. comes with a price tag, but is $2 really too much to pay for a brownie at midnight if you need one? Beer, wine, bar drinks and soft drinks are all at regular bar prices, regardless of the time of day or night.
Celebrity Cruises
Between 6 a.m. and 11 p.m., Celebrity's free room service includes some hot foods, such as scrambled eggs and breakfast meats, in addition to cold foods like cereals and pastries, plus the beverages that would be included elsewhere on the ship. Menus are supplemented with specialty items that are priced individually. All orders received between 11 p.m. and 6 a.m. incur a fee of $4.95 per order.
Suites and Concierge and Aqua Class staterooms do not incur the late-night fee. Those rooms also have an enhanced room service breakfast menu and specialty snack bites delivered each day. Suites have in-room specialty coffee and a variety of complimentary mini-bar beverages that are re-stocked daily, eliminating the need to order those from room service. (Complimentary mini-bar offerings vary by suite category.)
Cruise & Maritime Voyages
Guests on Cruise & Maritime Voyages' ships can choose to have a continental breakfast delivered to their room free of charge in the mornings between 7 a.m. and 10 a.m. They just have to hang a card on their doors the night before, outlining the items they'd like to awake to. Choices include cereals, pastries, fruit, yoghurt and juices.
From 10 a.m. until midnight, a paid-for room service menu becomes available. Options at the cheaper end of the scale include soups and sandwiches for between £3 and £7. Then there are bigger, more costly, options such as spaghetti Bolognese and beef burgers, which will cost closer to £10.
Disney Cruise Line
There is not a room service fee on Disney cruises, but some snacks, like M&Ms, popcorn and peanuts have upcharges, as do wine, beer and soft drinks. There are specially priced beverage packages among the room service offerings -- think six-packs of soda or beer. The free room service menu includes pizza, hamburgers, sandwiches and even grilled salmon. And don't forget cookies, ice cream and desserts (because you are on vacation).
Fred. Olsen Cruise Lines
Tea and coffee making facilities are available in the cabins of all Fred. Olsen Cruise Lines' ships, so you can brew up as many times as you like without paying an extra penny.
Room service is free of charge, too, although the menus are concise. Breakfast is available from 7 a.m. to 10 a.m. and options are limited to cold items such as baked rolls, pastries, fruits and yoghurt, and cereals.
The combined lunch and dinner menu is served from 10 a.m. to 11 p.m. and features a choice of salads, soups and sandwiches. A selection of afternoon tea pastries is also an option between 3.30 p.m. and 6 p.m.
Hebridean Island Cruises
Cruises with Hebridean are all inclusive, so all food, from onboard meals to picnics ashore, are included in the cost.
There's no formal room service menu on Hebridean Island Princess, however the line's commitment to "exceptional service" means guests can make requests for certain items to be prepared and brought to their rooms.
Holland America Line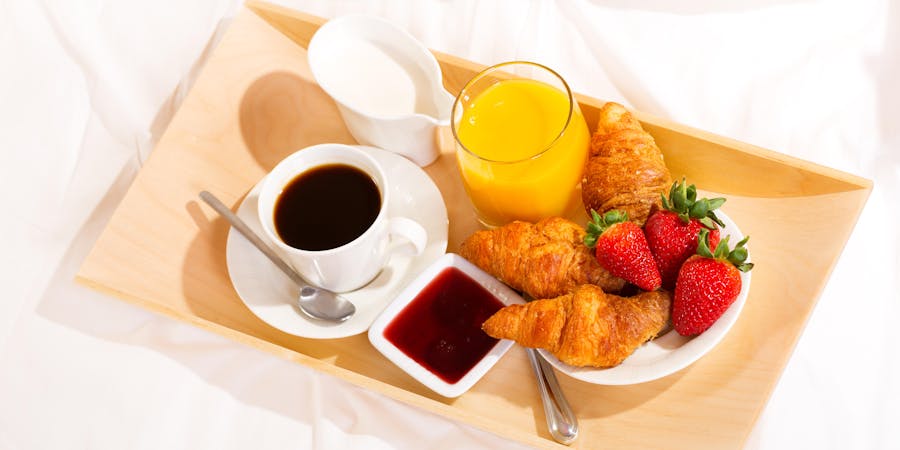 Holland America has a wide-ranging room service menu, featuring a combination of complimentary basic choices and charged items. Specialty breakfast items like steak and eggs or smoked salmon benedict incur a fee; later in the day, specialty restaurant options are available for an extra charge. Items include bento boxes from A Taste of Tamarind or lobster from the Pinnacle Grill for $20, both delivered between 5:30 p.m. and 9:30 p.m.
The late-night complimentary menu, available from 11 p.m. to 6 a.m., pares down the list of choices to eight options for snacks and sweets, but burgers from Dive In are available around the clock for $4.95. Holland America's room service is offered during breakfast hours on debarkation day -- a unique standout among the mainstream cruise lines.
Marella Cruises
Room service is available around the clock on Marella Cruises' ships and there is a charge for it. Breakfast is available from 7 a.m. to 10 a.m. and the simple continental option costs £4.95 per person.
All-day options include omelettes, for £4.95, and light bites that range from a club sandwich for £3.60 to soup at £2 and Caesar salad for £2.85.
Passengers can also choose from a selection of deserts and wines, which start at £15 a bottle. Full details of the menu are included in the Life Onboard brochure, which is placed in every cabin.
MSC Cruises
MSC offers a limited free breakfast service which includes: Tea, coffee, juices, toast, pastries, cereals and yoghurt. You either leave your selection on your door handle the night before, or you can call room service in the morning.
Most other menu items are free as well, except for desserts and pizza, which costs 5 to 9 euros a pie. There is a delivery charge for non-breakfast items.
Norwegian Cruise Line
Norwegian adds a $7.95 room service fee to all orders other than continental breakfast and morning coffee. The breakfast menu includes omelets and French toast under the heading of "Specialty Selections" for which the $7.95 fee applies. The all-day menu is available from 10 a.m. to 6:30 p.m. and has an extensive selection, ranging from salads to grilled salmon. There are four choices of pizza, plus burgers, hot dogs and desserts. Passengers staying in The Haven do not incur the service charge.
P&O Cruises
P&O Cruises offers room service on all its ships, with breakfast being served from 7 a.m. to 11 a.m., "Daytime Bites" available between 11 a.m. and 11 p.m., and a shrunken menu of "Night Time Nibbles" served from 11 p.m. to 7 a.m.
Breakfast is included in the cost of the cruise. The menu is simple and almost identical on all ships -- you'll find items like smoothies, yoghurt, cereals, fruit and compote, bakery items, toast and a sausage and bacon panini on there.
There's a small charge for daytime bites and night-time nibbles, but the prices don't shoot up if you order at an unearthly hour. A beef baguette ordered at midday will cost you the same £1.50 as one ordered at 3 a.m. The same applies to a plate of Chicken Tikka Masala, which will set you back £4.75 no matter what time you order it.
Suite guests can also order breakfast, lunch and dinner items from the main restaurant menu to be brought to their rooms.
Princess Cruises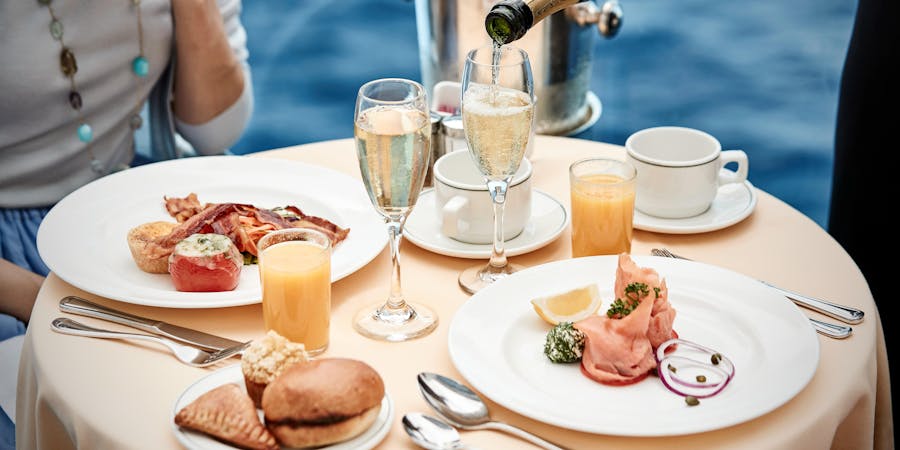 There is no flat room service fee on Princess. The menu is divided between complimentary choices and those with upcharges, primarily snacks and beverages. Suite passengers have the added benefit of ordering room service from the Main Dining Room menu during its operating hours. Princess also offers a paid option called Ultimate Balcony Dining, involving a surf and turf dinner menu or a Champagne breakfast menu, both with flowers for the table and course-by-course service on your balcony.
Royal Caribbean International
Continental breakfast and breakfast beverages ordered for room service are complimentary on Royal Caribbean from 6 a.m. to 11 a.m. All other room service orders incur a $7.95 fee plus 18% gratuity (which eliminates fumbling at the door for tip money). There are hot menu items like fried eggs or pancakes on the breakfast menu that incur the fee, as does the complete all-day menu (11 a.m. to 6 a.m.).
The general menu lets you refuel with everything from burgers and pizza to chicken fettuccini alfredo. Finish up with warm chocolate chip cookies or a slice of cheesecake. Cruisers sailing in Grand Suites and above will have the fee waived. Those same suite passengers have in-suite coffee and tea kettles, and they have the option of ordering from the main dining room menu when it is open.
Saga
Around the clock room services is included on all Saga Cruises' ships. Breakfast is served from 7 a.m. to 9.45 a.m. and the menu features juices, yoghurt, fresh fruits, cereals, hard and soft-boiled eggs, meats, cheese, pastries, toast, preserves and hot drinks.
Passengers are asked to make their breakfast selection the night before and hang a marked-up menu on their cabin door, requesting the time they'd like their food delivered as well as what they'd like to eat.
Throughout the rest of the day, a lengthy selection of starters, salads, sandwiches, toasties, main courses -- like grilled Aberdeen Angus burgers and chicken kormas -- and deserts are available to order.
Dishes from the dining room menu can also be ordered during its opening hours. Passengers just have to ask their cabin steward for a copy of the daily menu to see what the options are.
Luxury and Upscale Cruise Lines
It has probably become apparent by now that, in general, the more you pay for your stateroom, the less likely you are to incur a room service fee. That holds true among the luxury lines, such as Crystal, Regent, Seabourn and Silversea, and upscale lines like Viking, Azamara, Oceania and Windstar, none of which charges a separate fee for room service.
Luxury lines typically make almost anything a passenger desires appear magically in the hands of a butler. Want buttered popcorn with your afternoon movie? Not a problem. Cheese plate every afternoon at 3 p.m.? Sure. All luxury lines offer extensive room service menus, as well as the option to order from the main dining room menu during its hours of operation. You may even request course-by-course service.