Many major cruise lines sell "swimming with dolphin" excursions, with the majority available on sailings to the Caribbean. For many passengers -- adults and children alike -- to interact with these loveable creatures is a dream come true, with a photographer on hand to provide cherished memories of participants hugging and kissing their "flippered friends."
Tours that promise swimming with dolphins generally follow the format of an introductory talk before people wade into the pool and trainers use commands to call the dolphins over, where they are petted and, in some instances, perform a series of tricks, such as spectacular leaps, and provide "rides" by pulling individuals through the water as they hang on to their dorsal fins.
So, is swimming with dolphins humane? Although passengers will undoubtedly say they adore dolphins and sign up for these trips with good intentions, animal welfare organizations say dolphins' fixed "smiles" are deceptive and it is cruel to keep these seemingly happy-go-lucky creatures in captivity and allow people to swim with them.
Sea Change for Dolphin Tours
The concern is part of a growing trend toward many animal-oriented tourist attractions. TripAdvisor has already stopped selling tickets to hundreds of zoos, parks and aquariums that violate its new animal welfare policy. It has also produced
guidelines
to help travelers make informed and responsible choices about visiting places where wild animals are on show.
In 2019, UK-based Virgin Holidays -- which is launching its first cruise ship Scarlet Lady in 2020 -- announced it would no longer sell tickets to attractions featuring captive whales and dolphins and encourage customers to see animals in the wild. The decision follows that of fellow UK company Thomas Cook, which stopped selling tickets to parks housing killer whales in 2018.
Joe Thompson, Virgin Holidays' managing director, said: "Virgin Holidays has decided to stop selling and promoting captive cetacean (whale and dolphin) experiences, as we look to focus on offering customers more natural, at-distance encounters with these animals. This decision means that we will be ending our long term partnerships with the likes of SeaWorld, Discovery Cove and other similar facilities."
People for the Ethical Treatment of Animals (PETA), the largest animal rights organization in the world, has also produced a
fact sheet
about the marine mammal industry. It points out that in the wild, dolphins swim up to 60
miles a day in large groups, or pods, and dive to depths of hundreds of feet. It also warns that many facilities use dolphins that are torn from their families in the wild, including babies which typically stay with their mothers for up to six years.
A PETA spokesperson said: "In captivity they're confined to chemically treated concrete pools. This is especially traumatic for them since they communicate through sonar. Captive dolphins are often housed in incompatible groups, and because of the cramped conditions of their enclosures, they're unable to escape conflicts. Many illnesses can be passed from dolphins to human visitors, including viral, fungal and bacterial infections such as salmonella.
"Although captive dolphins in the United States are afforded some minimal protections, programs outside the U.S. are often governed by few, if any, laws. Throughout the Caribbean, dolphins are kept in small pools or polluted sea pens. Debris and trash left in or near these pools, such as plastic bags, sunglasses, or the paper used to wrap the 'fish food,' can be ingested by the animals, causing gastrointestinal problems or even death."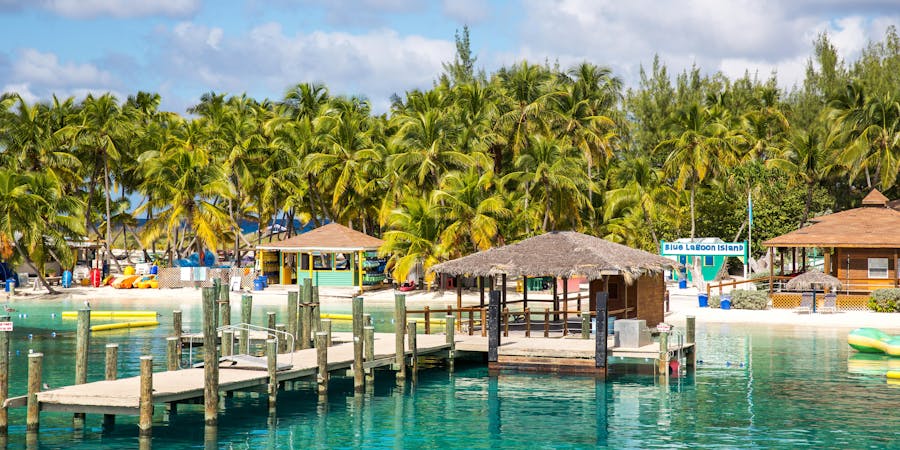 Blue Lagoon Dolphin Encounter
However, one facility promoted by lines, including Carnival, Disney Cruise Line, Norwegian and Royal Caribbean, has become the first in the Bahamas to receive a seal of approval through the global American Humane Conservation program for the welfare and humane treatment of animals in aquariums, zoos and conservation centers. Dolphin Encounters at Blue Lagoon Island in Nassau, Bahamas, achieved the Humane Certified seal of approval following a rigorous third-party audit.
Dr. Robin Ganzert, American Humane president and CEO, said: "Dolphin Encounters' dedication to meeting the highest standards of humane, verifiable and transparent animal care demonstrates to the public their leadership as a responsible steward of the remarkable animals living under their care."
Robert Meister, managing director of Dolphin Encounters, added, "For nearly 30 years, we have had the honor of caring for and learning from our beloved animal family. Their well-being has always been and will always be the focus of what we do every day."
The American Humane Conservation program's criteria covers health and housing; positive social interactions within groups of animals and between animals and handlers; safe and stimulating environments, with concern for factors such as appropriate lighting, sound levels, air quality and thermoregulation; and evidence of thorough preparation and protocols established to prevent and manage medical or operational emergencies.
Look, Don't Touch
However, other organizations are encouraging cruise ship passengers to "interact" with dolphins by opting to go on boat tours to experience them in their natural habitat.
The global organization Humane Society International (HSI) does not support any captive cetacean activity or human–cetacean interactions and is opposed to the capture of all marine mammals from the wild for any kind of public display or entertainment.
Mark Simmonds, HSI's senior marine scientist, said: "Dolphin watching at sea can be a wonderful way to see these amazing animals in the wild where they belong. However, we do need to make sure only to take a trip with a reputable company that follows ethical guidelines, because otherwise animal welfare can be jeopardized. Irresponsible boat tours can disrupt the cetaceans' normal behavior in a number of ways, including the vessels making high levels of noise which can be harmful (boat noise is far louder underwater than it appears above). Boat disturbance can interrupt the animals' normal behavior, feeding and even reproduction and there is also the risk of physically harming them with propeller strikes.
"HSI recommends that if you're going on a dolphin watching trip, select a company that abides by a code of conduct. For example, most codes advise that animals should not be approached any closer than the distance specified for each species and locality and that operators should never chase the animals. Close encounters with cetaceans should always be on their terms, for example when dolphins choose to ride in the bow waves or the wake. Trips that offer swimming with wild dolphins should also be avoided because of the disturbance they cause to the animals and the risk of disease transmission."