The last few months of 2019 saw three mega-cruise ships launch in back-to-back succession: Princess Cruises' Sky Princess, Norwegian Cruise Line's Norwegian Encore and MSC Cruises' MSC Grandiosa. All have multiple restaurants, fun-filled outdoor activities, multiple cabin types and a variety of entertainment options, but each line has its own distinct personality.
Cruise Critic gathered everything you need to know about these three ships into one place so you can compare them and work out which one is right for you.
Size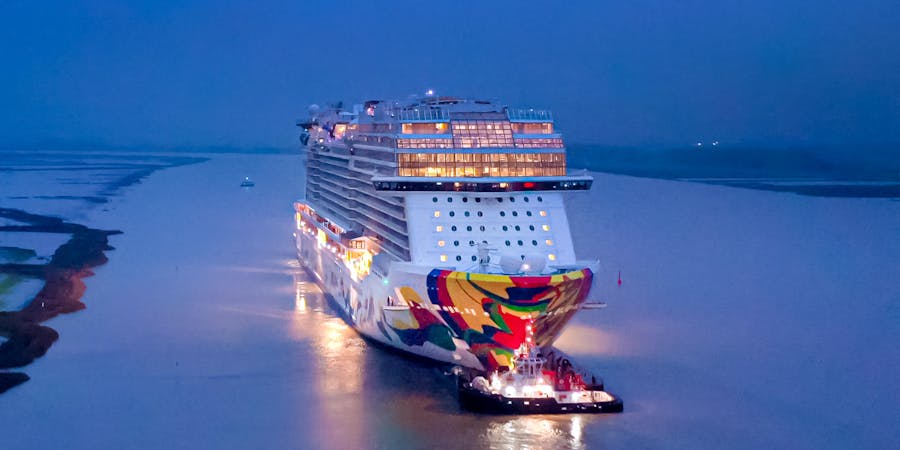 Sky Princess, Norwegian Encore and MSC Grandiosa are all mega-cruise ships, with MSC Grandiosa by far the largest of the three measuring 181,541 gross tons and holding 6,298 passengers at double occupancy.
It's the first of the line's "Meraviglia-plus" class ships, and is 16m longer than its sisters, with an additional 200 cabins, making it the 6th biggest cruise ship in the world.
Norwegian Encore comes in at 169,145 gross tons and carries 3,998 passengers at double occupancy; while Sky Princess comes in at 141,000 tons and holds 3,660 people at double capacity.
Dining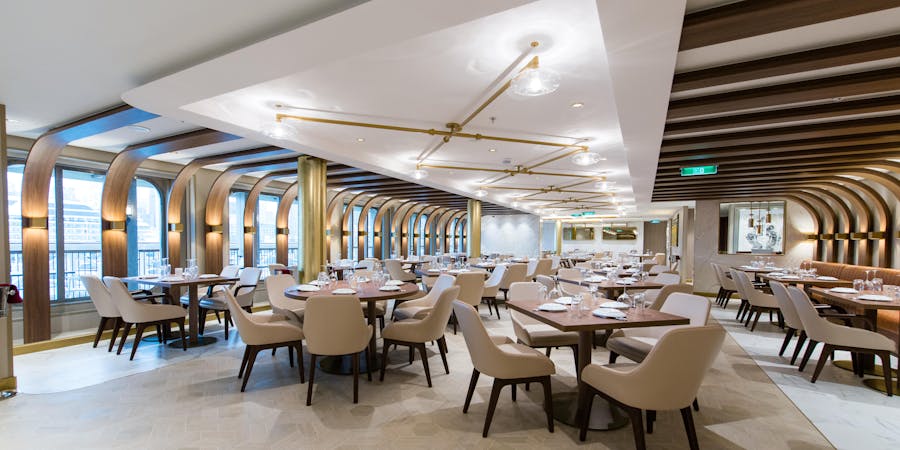 Despite being the biggest ship of the three, MSC Grandiosa has the fewest dining options onboard -- 10 venues. Compare that to 14 on Norwegian Encore and 13 on Sky Princess. Cuisine styles you'll find across the three ships include Italian, Asian, steakhouses and seafood spots, with venues that range from grab-and-go to casual sit-down and formal.
All three new ships feature main dining rooms and buffets. Beyond those standard dining venues, Sky Princess leads the pack when it comes to the number of lunch options included in the cruise fare, with four additional eateries offering complimentary afternoon grub; on Norwegian Encore there is only one non-MDR free food option, open for lunch and dinner and on Grandiosa you are limited to the Marketplace Buffet.
Of the three ships, only Norwegian Encore and Sky Princess debuted new eateries -- an at-sea version of the land-based upscale Italian Scarpetta chain called Onda by Scarpetta on Encore, and a casual French bistro with a menu from a 3-Michelin starred chef called La Mer and casual raw bar called Ocean Terrace on Sky Princess. MSC Grandiosa features a bigger version of its popular French Bistro, L'Atelier Bistrot, complete with live music; and a fifth, smaller MDR.
Both MSC Grandiosa and Norwegian Encore have a dining venue reserved exclusively for suite passengers; while Sky Princess has a Chef's Table experience.
Outdoor Fun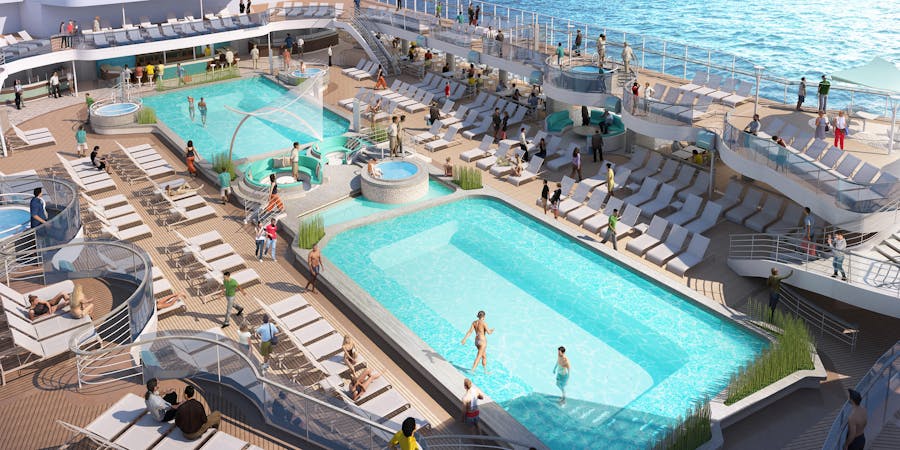 When it comes to outdoor fun, Norwegian Encore's leads the way with a large and thrilling electric go-kart race track as well as a day-to-night, Atlantis-themed laser tag arena. Both cost money to use and require advance reservations.
Encore and Grandiosa have complimentary water parks with water slides and both also have kids water parks. Both also have two swimming pools, as well as a third for the exclusive use of suite passengers.
Sky Princess, meanwhile, offers a traditional basketball/volleyball/pickleball sports court and a small mini-golf course, along with four pool options including one for adults 18 and older. Another adults-only area, the Sanctuary, comes with plusher loungers -- and a surcharge.
Norwegian Encore and MSC Grandiosa also both offer sun deck areas for those 18 and older, both without pools. Top 19 on Grandiosa is only open to Aurea passengers, while the two-deck Vibe Beach Club can only be accessed by purchasing a full-cruise pass.
Bars & Lounges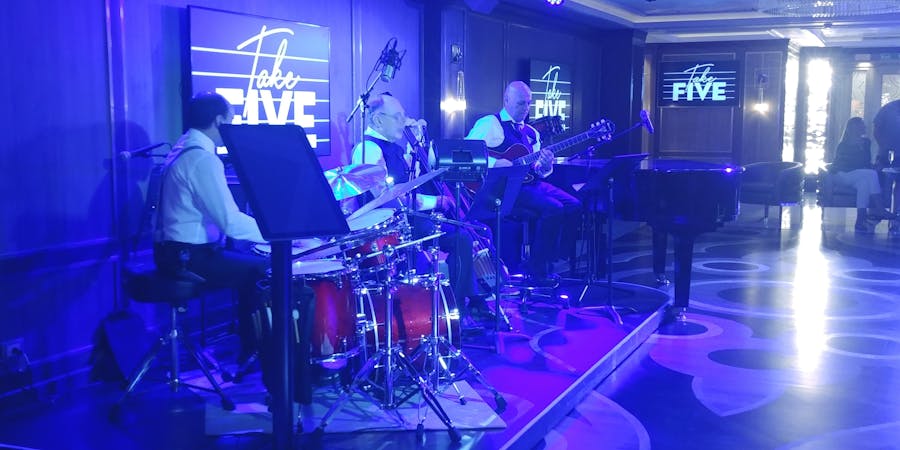 When it comes to bars and lounges, all have the same standards (atrium, casino and pool bars) but each new ship has a few standouts.
The only ship with a new space onboard is Sky Princess, with its Take Five jazz lounge. Nights here are themed (Harlem, Big Band, Women of Jazz, etc.), while daytime classes get you ready for a night of dancing. Another highlight on Sky Princess is Good Spirits, a cocktail bar where showy drinks take centre stage.
Grandiosa's fanciest bar is the see-and-be-seen Champagne Bar, wrapped around the Atrium, with its Swarovski crystal staircases, this is the place to dress up and come for a pre- or post-dinner glass of bubbles.
Wine-lovers will want to check out either Norwegian Encore for The Cellars Wine Bar or Sky Princess for Vines, while beer-lovers will want to look at MSC Grandiosa for Masters at Sea, and English-style pub with a large range of ales, IPAs and lagers on tap and by the bottle. Norwegian Encore's The District Brew House has one of the biggest beer taps at sea.
Cruisers afraid to miss their favourite teams in action will find sports bars on MSC Grandiosa and Norwegian Encore, but not Sky Princess.
Cabins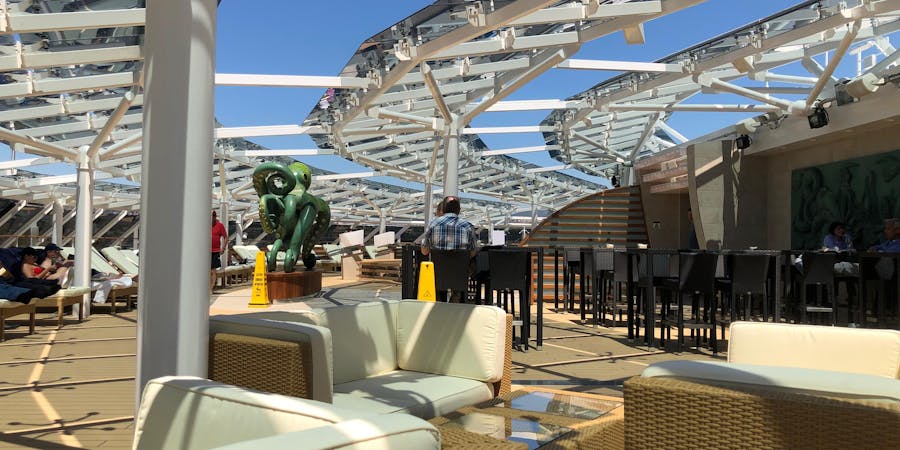 Sky Princess, Norwegian Encore and MSC Grandiosa all offer standard cabins in inside, outside and balcony categories, but each also offers a few unique accommodations.
Sky Princess has the line's largest-ever suites, though there are just two of them. The Sky Suites are approximately 1,873 square feet, feature massive balconies with 270-degree views and come with a range of perks. Inside, each suite has two bedrooms, a living room, two bathrooms and a dining area with a skylight.
Norwegian Encore features the cruise line's ship-within-a-ship suites enclave, The Haven, which has its own swimming pool, restaurant and lounge. Cruisers staying in The Haven, which features suites ranging in size from 324 to 1,458 square feet, also get a range of perks including several all-inclusive packages.
MSC Grandiosa meanwhile has the equally plush MSC Yacht Club, a keycard access only triple deck space with its own lounge, dining room and sundeck with private swimming pool, bar and hot tub. This also features the largest two suites: the Royal Suite, 699 square feet with a 430-square-foot balcony including a hot tub.
Grandiosa also has some good family options, including the Duplex Suite. There are eight of these, all located at the front of the ship, which come in at 559 square feet and feature a bedroom, living room, a bathroom, a shower room and large balcony with hot tub. Family cabins include Family ocean views, which have bunk beds in a recessed space with a curtain for privacy, as well as a double bed and a single sofa bed, so they can sleep five. Family suites are the same size as an ocean-view room but come with a narrow balcony.
Entertainment and Activities
MSC Grandiosa and Norwegian Encore duke it out when it comes to virtual reality and gaming. On Grandiosa, you'll the find a VR arcade which includes a 4D cinema, a VR maze and two F1 simulators. There are also two bowling lanes and a video games room next door.
Norwegian Encore lifts the bar even higher with the Galaxy Pavilion virtual reality arcade. Here cruisers can soar through the air skydiving, shoot at zombies or go on a jeep ride through Jurassic Park or zip along a variety of roller-coaster tracks without ever risking life or limb. There is also a simulated F1 race track where you can race with your friends.
On the theatre side of things, Grandiosa debuted two new Cirque at Sea shows, "Cosmos - Journey to the Unbelievable" and "Exentricks", the fifth and sixth in the line's ongoing partnership with Cirque du Soleil.
Norwegian Encore features the first at-sea production of "Kinky Boots" and the outstanding "Choir of Man" show, which first debuted on Getaway; Sky Princess introduced a new-to-the-fleet song-and-dance production. Sky Princess also features an audience participation show, appropriate for the entire family: The Voice of the Ocean.
Encore also has The Beatles-inspired The Cavern Club with attendant The Beatles tribute band. Encore also features adult comedy in the Social Comedy & Night Club and Grandiosa has a multi-purpose late-night venue, the TV Studio and Bar, which does quadruple duty as a TV studio in the day and as a comedy club, and karaoke and live music venue at night.
Family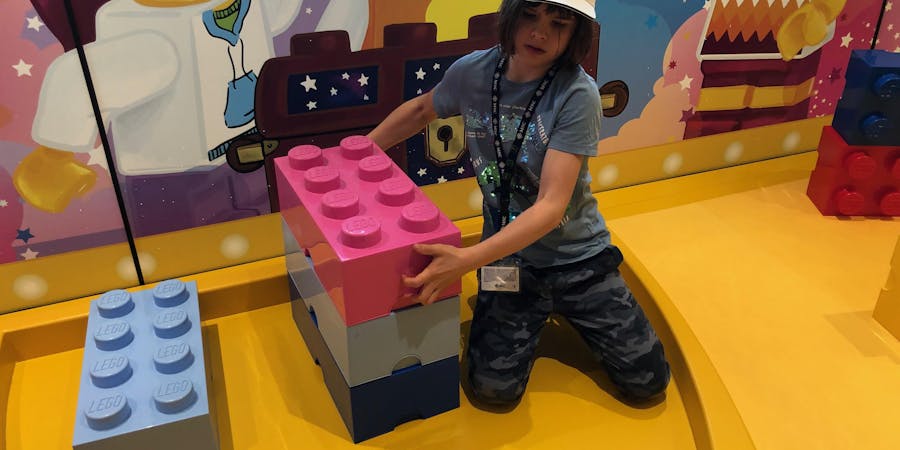 While all three of 2019's new ships have robust kids' and teen's clubs, as well as late night group babysitting, MSC Grandiosa and Norwegian Encore are the most child friendly with a larger selection of family-oriented spaces, cabin choices and activities. (With that said, Sky Princess does offer two-bedroom suites with room for up to eight people.)
MSC Grandiosa, in particular, has lots to offer families from group games and competitions in the Sportplex, Lego Master Builder Challenge, Live (for fee) video game tournaments, the Family disco and a once-a-week family competition featuring Kelly & Kloe, the line's online show. Grandiosa also has family group cluster cabins where up to three rooms can be joined so larger families can stay together.
Both Norwegian Encore and MSC Grandiosa cater for under-twos; MSC in its Babyclub and Norwegian in its Guppies playroom (one of the largest on the fleet), though they must be accompanied at all times by a parent.
Itineraries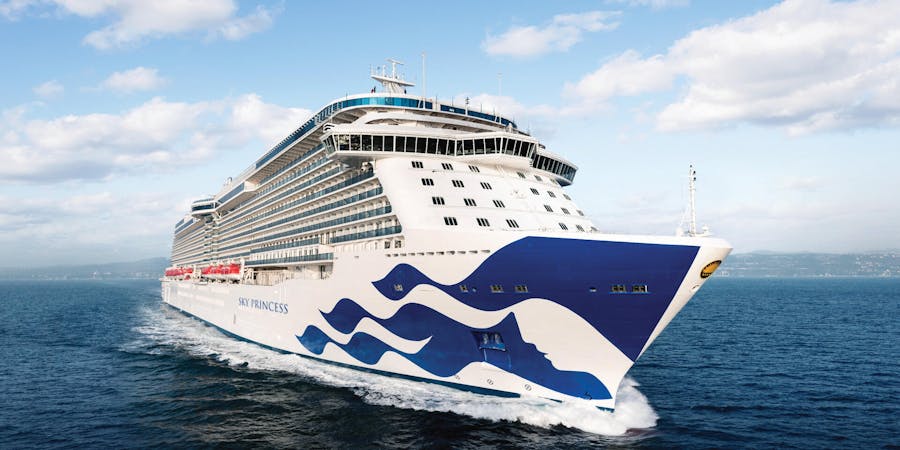 A quick snapshot of the itineraries that the three new ships are offering reveal the following highlights:
Sky Princess was the only one of 2019's new cruise ships to begin its year in Europe, sailing a short season of weeklong Mediterranean voyages before it headed across the Atlantic to Fort Lauderdale. From here, the ship is primarily operating weeklong Caribbean cruises. In May 2020, Sky Princess returns to Europe for a series of 10- and 11-night Scandinavia itineraries, before returning yet again to the United States for a short series of Canada and New England sailings from New York City.
Norwegian Encore kicked off its inaugural year with a winter season of cruises to the Eastern Caribbean from Miami, which will be followed by a season of Bermuda sailings out of New York City. In the fall of 2020, Encore will offer a very short season of Canada and New England sailings before heading back south for another winter season of Caribbean sailings.
MSC Grandiosa sails on seven-night cruises in the Western Mediterranean with six embarkation ports and calls at Genoa and Civitavecchia, Italy; Palermo, Sicily; Valetta, Malta; Barcelona, Spain; and Marseille, France.