A good packing list can enhance your cruise holiday, ensuring you're prepared for whatever comes your way. No need to worry your cruise will be ruined because you stubbed your toe in a dark bathroom or got a cold because you weren't prepared for the over–air-conditioned theatre.
After hundreds of cruises, the crew at Cruise Critic have compiled a list of 10 items we never cruise without, knowing these things will get us through almost anything a cruise can throw at us. They aren't sexy. They aren't life-changing. But, they can make all the difference on your next cruise.
1. Travel Wallet
While we love to push the boundaries (or at least our suitcase seams) by cramming as much as we can into our bags, we know that paring down our wallets is essential when travelling. No reason to bring four credit cards, all the business cards for colleagues we've ever met and a wallet-sized photo of everyone we know.
Instead, we pick two credit cards (just in case our preferred card doesn't work), a regular bank card, our driver's license and our insurance card and transfer it to a small travel wallet that can fit easily into a front pocket or a small bag.
Here are our best bets for cruise document holders.
2. Swimwear
Swimwear is an obvious choice if you're going on a warm-weather cruise. But, cruisers on cold-weather and port day-intensive cruises often choose to leave their swimwear behind, thinking there's no point. Often, they end up regretting it. Hot tubs are awfully inviting when it's cold outside, and what's better than soaking your sore footsies in a massaging whirlpool after a long day exploring ashore?
For cruisers with pre- or post-hotel stays, there might even be a chance to go swimming at your hotel. One swimsuit and a pair of swim trunks don't take up much space, and you just never know when you'll want 'em.
Check out our picks for the best beach cover-ups and swimsuits for your cruise.
3. Medical Kit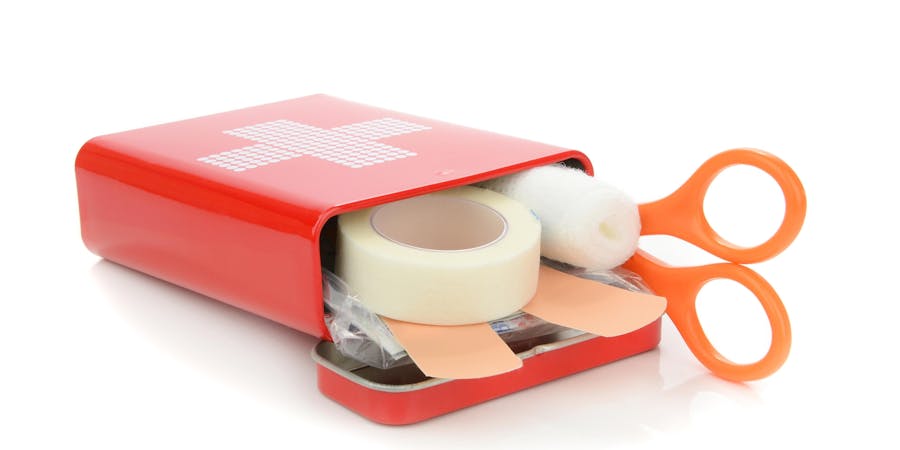 We may not all have been Boy or Girl Scouts, but we all cruise by the motto "Always be prepared." A good medicine kit, with seasick pills, painkillers, diarrhea and cold meds and plasters, is never a bad idea, and it'd be fair to say we hit up our kits at least once every cruise.
Leave the kit at home and you may end up paying too much at the cruise ship's sundries store or wasting time in port tracking down a pharmacy.
Here are our best picks for the best travel medicine kits for a cruise and what to put in them.
4. Magnetic Hook
One of our most consistent complaints about cruise ship cabins is the lack of hooks for hanging things, such as sweaters, jackets and scarves. Rather than curse the proverbial darkness, we bring our own hooks, little magnetic ones that can hold about 10 pounds or so.
While more and more ships are being created with less steel, you can always find somewhere metallic -- particularly the cabin door -- to stock a hook and voila, you've just increased the cabin's storage!
For more storage ideas, check out the cruise cabin hacks that will change the way you cruise forever.
5, Snacks
We doubt you'll ever need your own snacks on a cruise sea day, but getting to and from your embarkation and port days are another story. Snacks, such as nuts, crisps and cereal bars, are perfect to carry with you while travelling and on a long port day. Even if you're doing a lunch-included excursion, you'll often have to wait longer than you'd like before that meal is served.
6. Night Light
We envy you if you're one of those lucky people who never has to get up in the middle of the night to visit the bathroom. We're not so lucky, and too many stubbed toes have taught us to bring a night-light to keep in the bathroom. Believe us, it's no fun going snorkelling the day after you've smacked your foot against the step into the bathroom. Throbbing toes and snorkel fins do not mix well.
Here are more bathroom hacks to make your cruise ship cabin more livable.
7. Headphones
There are times when you want to tune out, whether it's jogging on the treadmill in the gym or vegging out on the adults-only sun deck pretending you're the only one in the world.
We're pretty picky about what we put in our ears and some headphones can be uncomfortable. We also like having our own pair if we end up on an excursion during which they give us headsets to wear so we can hear what the leader is saying (most common on river cruises or tours in museums and big cities).
Here are our picks for the best noise-cancelling headphones and earbuds for cruise travel.
8. Sweater and a Wrap
A nice black sweater or cardigan and a wrap are as essential as a pair of versatile black trousers that can be dressed up or down depending on the situation. Not only is it fashionably flexible but it will also keep the chill away on an over–air-conditioned cruise ship.
It's easy to get caught up in all the higher temperatures you see when researching all your warm-weather ports, but the cruise ships themselves are rarely that warm, especially in public lounges and theatres where the A/C is often dialled up as high as it'll go. Unless you're one of those people that's always hot, we suspect you'll be glad you brought a sweater.