(1 p.m. BST) -- It has already been an exciting 2019 so far, what with MSC Cruises' MSC Bellissima christened in a stormy Southampton in March, followed by Marella Cruises' latest ship, Marella Explorer 2, which debuted in April and Saga Cruises' first-ever new build, Spirit of Discovery, which launched in Dover in July.
But there's still so much more to come -- and lots to see and experience if you haven't already taken your 2019 holiday yet. To catch a glimpse of the new ships, and the sun, it will mean jetting off for a fly-cruise in the Caribbean or Mediterranean -- or sneaking a peek at some of the new ships as the call in at Southampton on maiden voyages before the year is out.
We took a look at everything that's launching in the next five months and pulled out nine reasons we believe you should be more excited about cruising than ever before.
---
1. Cirque du Soleil at Sea
MSC Cruises' first Meraviglia-Plus class ship, MSC Grandiosa, will carry nearly 6,300 passengers when it debuts in November 2019. Offering all the same features and entertainment as Bellissima, we're getting excited for the line's partnership with Cirque du Soleil and the two new shows that will debut on Grandiosa. The line hasn't yet revealed what the shows will be, but if the Cirque du Soleil at Sea shows on Bellissima and Meraviglia are anything to go by, the 40-minute, 35-euro performances are set to be a thrilling ride worth every penny.
If you like the idea of catching this brand-new ship -- and a starry performance of Cirque du Soleil at Sea -- early, there's a 10-night Mediterranean cruise departing from Southampton on November 13.
2. Virtual Reality Games
If you've ever dreamed of taking a jeep ride through Jurassic Park or getting behind the wheel of a Formula 1 race car at a Grand Prix, then the Galaxy Pavilion is the perfect cruise attraction for you. You'll find it onboard Norwegian Joy, which repositioned from Asia to the US in April, and Norwegian Encore, which debuts this November.
The virtual reality arcade features nearly a dozen "rides" that use VR technology to make you feel like you're right in the middle of the action, whether that's hang gliding over mountains, defending a military base from alien invaders or running from dinosaurs in Jurassic Park. There are also roller coaster and racing simulators, as well as an interactive 4D cinema in which you'll need to shoot up the most zombies, werewolves or other monsters to win.
Although Norwegian Encore will be based out of Miami -- offering sailings to the Caribbean -- Brits can get a flavour of the ship when it departs from Southampton on November 2 to make its journey across the Atlantic, first to New York before heading south to Florida.
3. Massive Balconies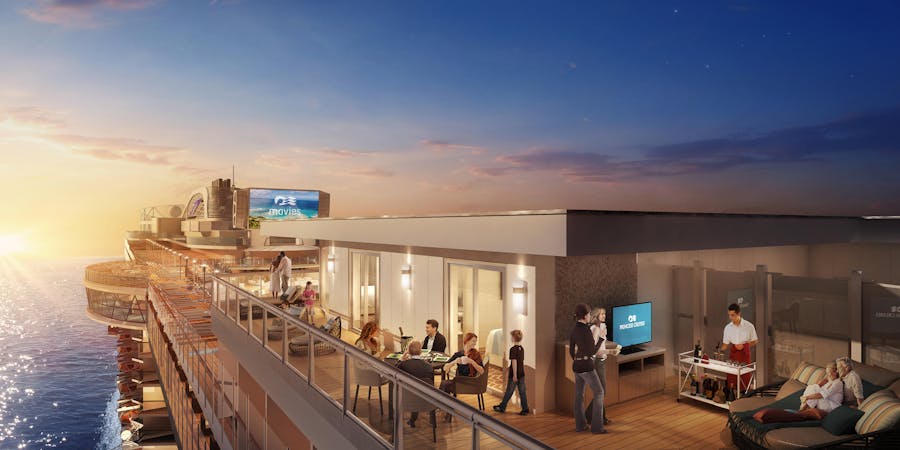 You'll have to act fast if you want to grab one of just two specialty suites on Sky Princess, which launches in the Mediterranean in October. Called Sky Suites, the new suite category features massive balconies -- 947 or 1,012 square feet, depending on the particular room booked -- with 270-degree views and perfect sightlines for the ship's Movies Under the Stars screenings.
Cruisers staying in these suites will be able to relax on a large day bed and loungers, and can take advantage of an exterior bar with mini fridge and TV. Plus, they'll enjoy enhanced and complimentary Ultimate Balcony Dining (breakfast and dinner), and will have free use of a deluxe telescope for stargazing. The suites are pretty nice inside, too; they've got two bedrooms and two bathrooms, a dining area with a sky light and room for up to five people.
Sky Princess will offer a series of Mediterranean sailings before repositioning to Fort Lauderdale in November.
4. Waterslides
Cruisers are spoiled for choice when it comes to picking a cruise ship with water slides, but there'll be three more exciting options by the end of 2019. Carnival Panorama and Norwegian Encore will both have multi-slide water parks when they debut this autumn, as will Oasis of the Seas when it returns in November after a $165 million refurbishment.
Carnival Panorama's WaterWorks will feature two slides: the 455-foot-long and extra twisty Red Fun and 300-foot-long Blue Fun, along with a 300-gallon PowerDrencher tipping bucket. Norwegian Encore's Aqua Park will have two multistory waterslides: the Aqua Racer, a tandem waterslide, and Ocean Loops, with a double loop that extends over the side of the ship. When Oasis of the Seas emerges from its dry dock, it will feature the line's trio of waterslides (Typhoon, Cyclone and Supercell), collectively known as the Perfect Storm.
5. Karaoke
As if there weren't already enough to do on Oasis of the Seas, the ship will boast a dedicated karaoke lounge when it returns from its 63-day refurbishment. At Spotlight Karaoke, singers can rock out on the main stage or book one of two private rooms, so start warming up your vocal chords now. If getting on stage isn't your thing but you love singing along, the ship will also have a new Music Hall where various cover bands will perform each night.
6. That's Kinky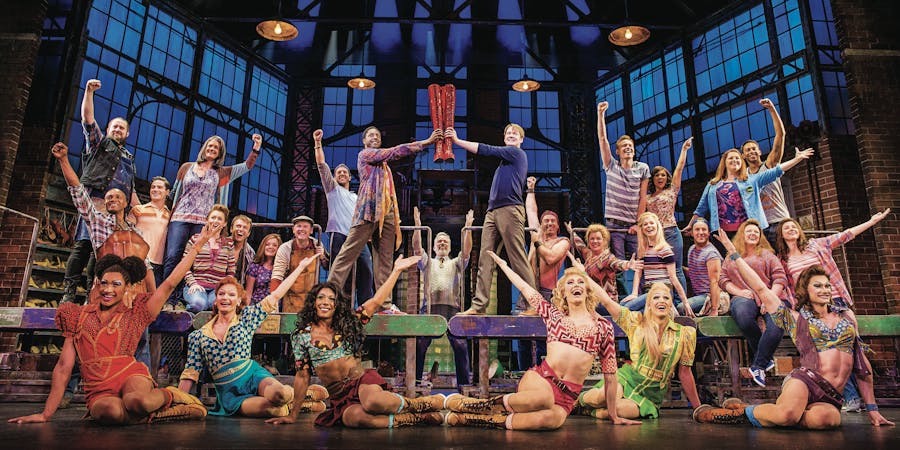 "Kinky Boots," that is! When it debuts in November, the Broadway show de jour on Norwegian Encore will be the Tony Award-winning "Kinky Boots," which features songs written by pop icon Cyndi Lauper and, of course, some of the most dazzling high-heeled boots you've ever seen. And while we're talking Broadway, Norwegian Joy, which is now based in the US after several years in Asia, features "Footloose" in its main theatre. Make plans for a toe-tapping night out.
7. BBQ
Barbecue is the new black, at least at sea where barbecue joints are the latest trend. This autumn will see the addition of three more finger-licking good BBQ spots on Carnival Panorama, Oasis of the Seas and Norwegian Encore -- joining Marella Explorer 2's barbecue-inspired The Beach Cove that debuted in April 2019.
Portside BBQ on Oasis of the Seas will be the first-ever barbecue venue for Royal Caribbean, with a menu of smoked marble brisket, pulled pork and chicken, beef ribs and burnt ends, that'll make any barbecue lover heart Royal. Q on Norwegian Encore will be the line's third iteration of the Texas-style barbecue eatery, while Guy's Pig & Anchor Bar-B-Que Smokehouse and Brewhouse on Carnival Panorama is the second appearance of this joint, which pairs yummy barbecue with various brews and smoked cocktails. It's the only one of the three that offers any free fare -- at lunch only.
8. Laser Tag
Lock and load and get ready to pit your shooting skills -- and, more importantly, your hiding skills -- against your fellow cruisers with laser tag on Norwegian Encore and Oasis of the Seas. Each offers its own variety of laser tag arena.
On Encore, as on Norwegian Joy and Norwegian Bliss, the arena is located high atop the ship, but this one will blend virtual reality with the amazingly realistic permanent elements. On Oasis, as on the other Oasis-class ships, the laser tag arena is layered on top of the Studio B ice rink when it's not in use and is only offered at select times -- but unlike on Encore, it's free to use. Laser tag on either cruise line offers high-energy fun and will get your heart racing as your team attempts to win the day.
Fans of Royal Caribbean can catch Oasis of the Seas' new laser tag and the rest of the ship's updates in the Caribbean from December 2019.
9. Helicopters & Submarines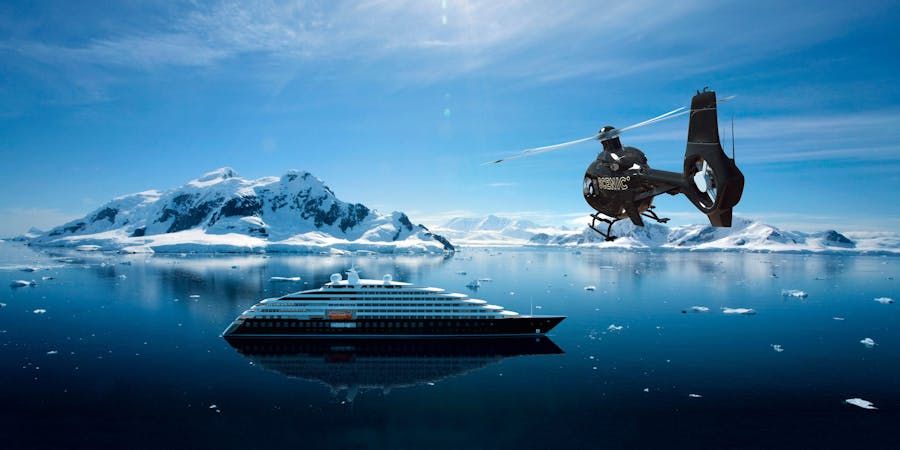 Only a handful of cruisers are going to get to experience this year's most exciting new ship. That's because the all-suite expedition yacht Scenic Eclipse only holds 228 people, and even fewer in Antarctica when the capacity comes down to 200. But if you've got the money, the ship, which debuts this August, boasts some of the cruise industry's most expensive "toys" -- two helicopters and a six-passenger submarine. Cruiser willing to spend a little extra will get to climb onboard for extra-special excursions that either go further inland or under the waves for views most travellers never get to see.