Italian restaurants at sea are diverse, ranging from laidback trattoria-style cafes to upscale, modern spaces serving up Italian fusion. While many of them stay true to their roots with menu items like freshly sliced prosciutto and pasta Bolognese, it's not uncommon to see a unique twist on a traditional favourite.
1. Royal Caribbean's Jamie's Italian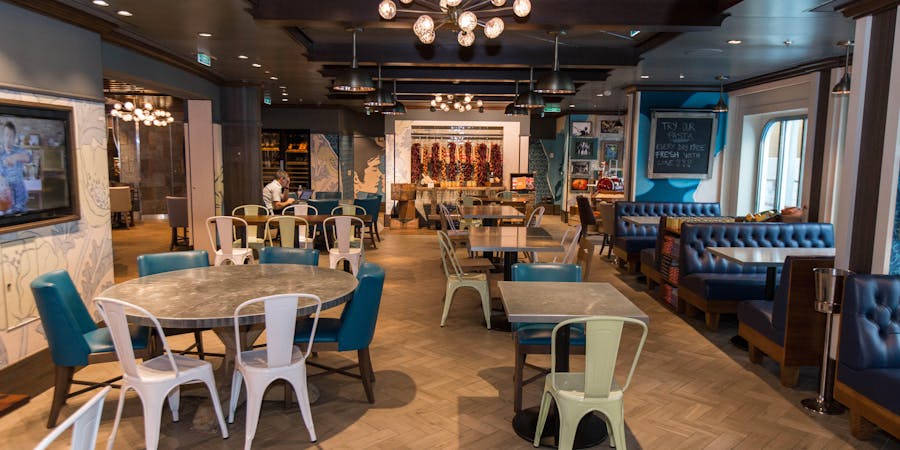 Ships: Ovation of the Seas, Anthem of the Seas, Quantum of the Seas, Harmony of the Seas, Symphony of the Seas, Mariner of the Seas, Navigator of the Seas, Spectrum of the Seas
Why We Love It: British celebrity chef Jamie Oliver's first seafaring restaurant recreates some of his most-loved dishes from land in a casual, family-style atmosphere. At Jamie's Italian, the space is light, airy and colorful with a hint of rustic charm. Start out with crab and avocado bruschetta or a "plank" of cured meats, cheeses and olives, then indulge on pasta (made in-house every day) or one of Jamie's main course recipes -- such as the Italian burger or lamp chops scottadito. There's so much delicious food that it's a great value for your money at around $35 to $45 for dinner (prices and menus vary by ship). A limited menu is also available at lunch, for around $20.
---
2. Marella Cruises' Nonna's
Ships: Marella Explorer 2
Why We Love It: Watching Nonna's chefs roll freshly made dough for pizza bases in the background, there's an authentic Italian feel to this pared-back new-to-the-line venue on Explorer 2. Occupying a small space with some outdoor seating, the menu at Nonna's is simple: there's pizza and there's pasta. Diners pick up a menu and pencil at the entrance and fill out their 'DIY' selection from different types of pasta dishes and pizza bases, including a gluten-free option. You then select the ingredients or toppings, right down to the herbs you'd like your dish finished with. The pasta and pizza are superb. What's more, Nonna's is inclusive, so no extra charges at the end.
3. Celebrity's Tuscan Grille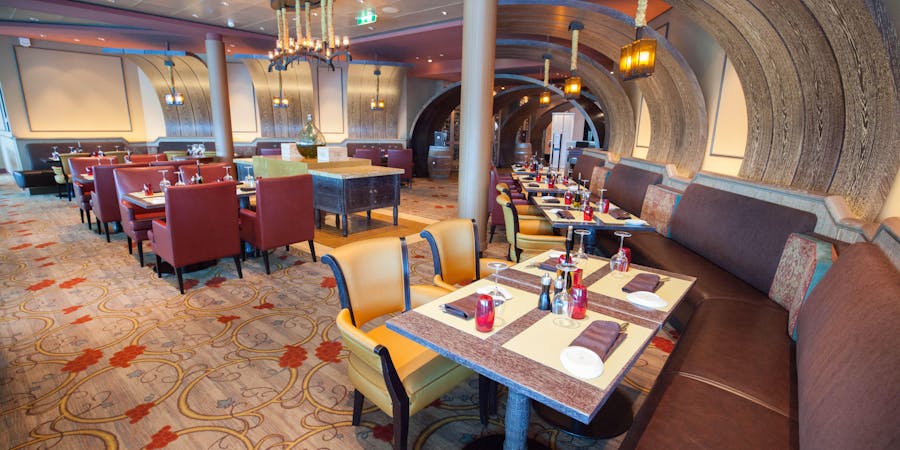 Ships: All ships except Celebrity Edge
Why We Love It: Craving lobster rigatoni or 30-day dry-aged prime bone-in NY steak? Celebrity's Italian steakhouse affords a casual yet contemporary ambiance and sumptuous regional fare focusing on meat and seafood -- all for $45 per person. One of Celebrity's more upscale specialty restaurants, Tuscan Grille beckons you to dress up for dinner. But what we love most are the views -- the best of any restaurant onboard each ship.
---
4. Disney's Palo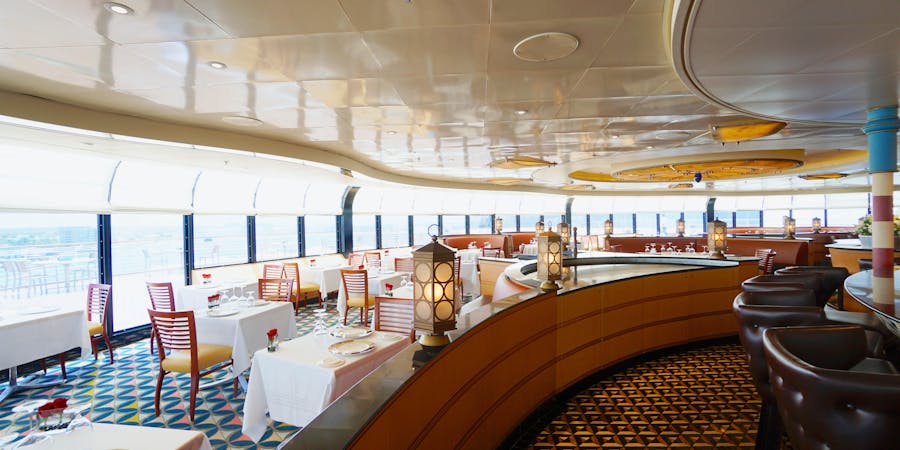 Ships: Fleetwide
Why We Love It: When it comes to Italian restaurants at sea, Palo is as intimate as it gets. The adults-only space features decorative lighting and artwork, cosy table arrangements and a private outdoor teak deck with additional seating. There's even a pianist who plays Italian music during dinner hours.
For $40 per person, you can enjoy an array of dishes such as pappardelle pasta with grilled lobster, salmon caviar and truffle oil in a tarragon cream sauce or parmesan-crusted rack of lamb. We also love that there's a wine-pairing option ($65 per person, on top of the normal cover charge) that includes six dishes accompanied by handpicked Italian wines.
---
5. Oceania's Toscana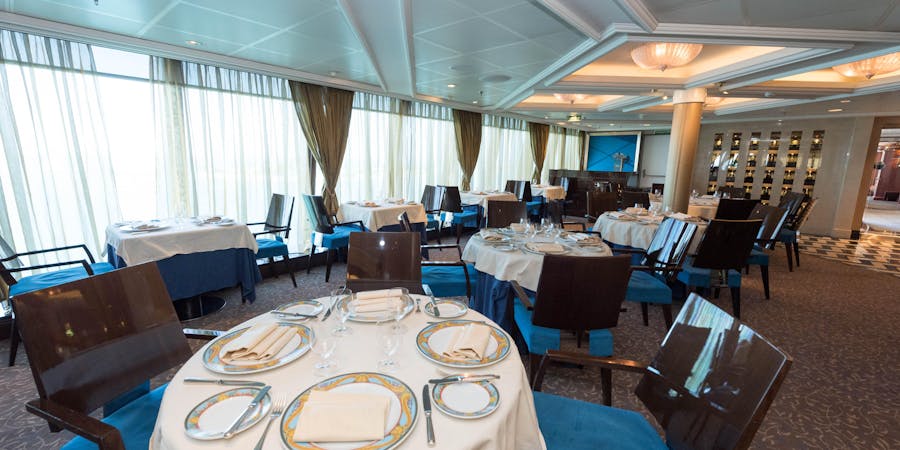 Ships: Regatta, Insignia, Nautica, Marina and Riviera
Why We Love It: Toscana offers Italy's Tuscan cuisine -- with a few Northern Italian influences -- at its most elegant and refined. We love the olive oil bar; this is the only restaurant in cruising where choosing the olive oil to go with the (exceptional) bread basket takes more consideration than reviewing a wine list.
If you're in for a long, leisurely supper, you can sample more than seven courses (not including dessert!), each offering ample options. There's hot antipasti, cold antipasti, soup, pasta, risotto, salad and, oh yes, entrees. Our ideal dinner at Toscana would include the prosciutto-wrapped shrimp, a small portion of the linguini cioppino and the pan-seared sea bass. There's no additional charge to dine at Toscana, but reservations are strongly recommended.
---
6. Viking Ocean Cruises' Manfredi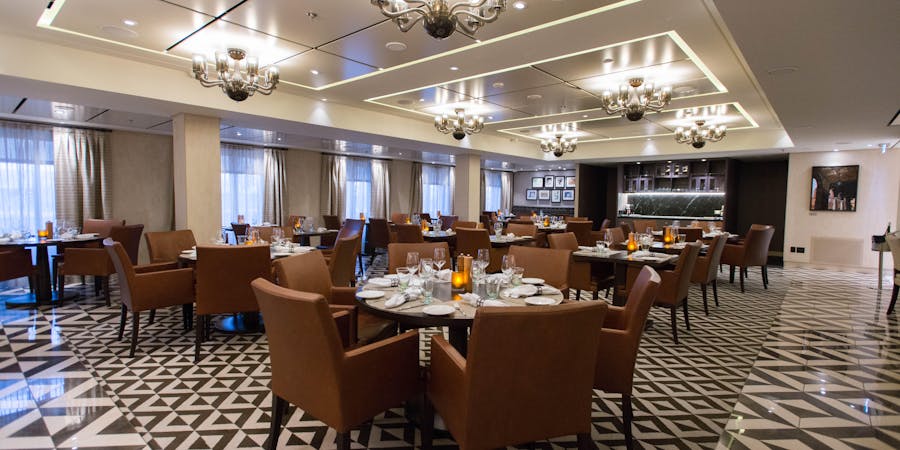 Ships: Fleetwide
Why We Love It: Imagine a sleekly decorated Italian bistro that serves hearty Tuscan cuisine with that home-cooked feeling, and you've nailed the concept of Viking's Manfredi's. It's named after Silversea Cruises owner Manfredi Lefebvre, a good pal of Viking CEO Torstein Hagen, because he contributed many of the recipes from his mother's kitchen.
Upon entering, you'll stroll past the antipasti station, where chefs are slicing super-thin chunks of prosciutto and salami. You can choose your own selection if you wish. Favorite meals at Manfredi's have included the bistecca Florentine, a deliciously prepared steak with a hint of rich balsamic; the osso bucco, an Italian tradition; and the lasagna bolognese. The daily specials are a highlight, and we recommend sampling that day's pasta offering (with noodles made on site). There is no charge to dine at Manfredi's, but it's popular, so do make reservations.